Hyundai, Kia Pay Fine, Lose Credits Over Mileage Claims
Jeff Plungis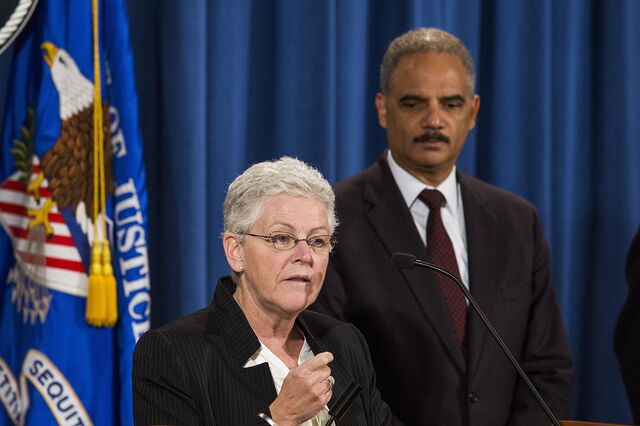 Hyundai Motor Co. and Kia Motors Corp. will pay the equivalent of $350 million to settle U.S. claims that they overstated fuel economy on the window stickers car buyers see at dealer showrooms.
Korea's two biggest carmakers, which share engines, model platforms and a chairman, will pay a $100 million fine, forfeit $200 million in greenhouse-gas emission credits and spend $50 million setting up independent tests to certify future mileage claims, according to the settlement with the U.S. Justice Department and the Environmental Protection Agency.
The corporate penalty is the largest assessed under the U.S. Clean Air Act and comes as automakers are crafting more creative ways to meet increasingly strict fuel-economy rules. Ford Motor Co. had to lower its fuel-efficiency estimates for certain models twice in less than a year, and the EPA last month required Daimler AG's Mercedes-Benz unit to restate fuel economy on two C300 4Matic models.
Hyundai's violations were larger and more systemic, representing "by far the most egregious case," EPA Administrator Gina McCarthy said yesterday at a news conference in Washington with U.S. Attorney General Eric Holder.
Hyundai and Kia used uncommon engineering protocols that were inconsistent with how other automakers test fuel economy, McCarthy said. The Seoul-based automakers' U.S. growth has been aided by claims that their vehicles get as much as 40 miles per gallon.
Hyundai Response
The companies tested cars only at optimal temperatures and used the best results rather than averages, according to the EPA. The inflated mileage claims affected 1.2 million vehicles sold in the U.S., McCarthy said.
Hyundai fell 3.1 percent to 155,000 won in Seoul trading, the lowest since October 2010. Kia dropped 0.2 percent, while South Korea's benchmark Kospi index declined 0.9 percent.
The Korean automakers agreed in 2012 to compensate consumers for the misleading mileage claims by issuing debit cards to affected customers. The MPG rating on the Kia Soul's window sticker was lowered by 6 miles per gallon, and most of Hyundai and Kia's other U.S. models were adjusted down by 1 or 2 miles per gallon.
"Hyundai has acted transparently, reimbursed affected customers and fully cooperated with the EPA throughout the course of this investigation," David Zuchowski, president and chief executive officer of Hyundai Motor America, said in a statement. "We are pleased to put this behind us."
Settling Lawsuits
Hyundai's testing procedures were consistent with government regulations and guidance that "afforded broad latitude to vehicle manufacturers," according to a company statement. Still, the company said it revised test procedures and has gotten the EPA's approval.
Hyundai and Kia agreed in December to spend as much as $395 million to settle lawsuits related to claims that they overstated the fuel-economy ratings of their vehicles. The company says it's now offering a single lump sum to customers who don't want to return to the dealership to have their mileage verified.
Hyundai and Kia's settlement offers are intended to cover added fuel costs, plus a 15 percent premium to acknowledge inconvenience to its customers. Vehicle owners get annual payments based on mileage and regional fuel costs, for as long as they own their cars.
The lump-sum payments for both automakers have won preliminary approval from the courts. Customers will soon get notices about the details of those offers, the companies said.
Vehicle owners can go to websites set up to answer basic questions about the payouts at https://hyundaimpginfo.com and https://kiampginfo.com.
Before it's here, it's on the Bloomberg Terminal.
LEARN MORE