France's Latest Tax Target: Vacation Homes
By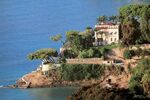 President François Hollande's "no new taxes" promise didn't last long. Now he wants to raise taxes on people who own vacation homes in France.
The government will propose a 20 percent surcharge on housing taxes paid by owners of secondary residences–from the Paris pieds-à-terre and Riviera villas of the super rich to more modest vacation getaways owned by many French families.
Even some Hollande allies appear to have been taken aback by the plan, which comes after the president repeatedly pledged to hold the line on tax increases after raising some €27 billion ($33.7 billion) during the year following his 2012 election. The proposed second-home surcharge would yield an additional €150 million annually. "Clearly there are a lot of rich foreigners owning homes," Labor Minister François Rebsamen said in an interview on the I-tele news channel today. "But when we say no new taxes, it means no new taxes. Voilà!"
The government says the tax is intended to ease housing shortages by encouraging second-home owners to sell or rent out their properties. In Paris, for example, some 174,000 residences are second homes, equaling 16 percent of the city's housing stock. The figure rises to 40 percent in some high-priced neighborhoods favored by wealthy foreigners.
Such properties, though, are only a fraction of the nearly 3.2 million second homes in France, where it's relatively common for middle-class families to own homes in the countryside or near the coast. National statistics agency Insee says 10 percent of French homes are secondary residences. The figure in the U.S. is only 3 percent, according to the Census Bureau.
Although the government says the surcharge would apply only in 30 metropolitan areas deemed to have housing shortages, it could apply to large swaths of the country. The Paris metropolitan area, for example, includes about 1,100 square miles.
Hollande has little to lose politically. even if French property owners bear the brunt of an unpopular new tax. The latest polls show his popularity rating at only 16 percent, with 84 percent of voters saying he should not seek a second term in 2017.
Before it's here, it's on the Bloomberg Terminal.
LEARN MORE