Grimes Deleted a Tweet Making Fun of McConnell's Voting Photobomb
The question remains: why???
By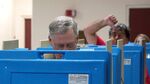 As seen in the photo above, Senate Minority Leader Mitch McConnell's voting photo-op was ruined when one of his constituents gave him a very enthusiastic thumbs down.
This is a great photo—the contrast between McConnell's seriousness and the red shirted man's mockery is great, and the timing couldn't be better—and yet, Democratic candidate Alison Lundergan Grimes deleted her tweet making fun of McConnell.
According to Politiwoops, a Sunlight Foundation project that tracks tweets deleted by politicians, Grimes deleted the tweet after two hours. It's not every day that someone snaps an unflattering photo of your political opponent on Election Day, and yet Grimes let a chance to tease her opponent pass her by.
There might be a logical explanation for this. It's possible she didn't want to draw attention to the fact that McConnell was at the polls, or she wanted to stay positive in the final hours of the election. Maybe she thought people would get confused—the guy in the red shirt isn't on the ballot, she is.
What's clear is that this was a missed opportunity for her social media editor, especially when Grimes's serious-voting-photo turned out pretty well:

 Watch our live broadcast.