pursuits
Diageo's Tequila Dreams in Mexico Prompted Brand Swap
By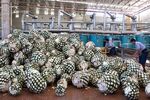 Diageo has confirmed that it will swap brands with Mexico's Casa Cuervo. The global booze giant will get the 50 percent of Don Julio tequila it doesn't already own, as well as the rights to Smirnoff in Mexico and $408 million in exchange for turning over Bushmills Irish Whiskey to Cuervo.
The deal gives Diageo control of a growing brand in the expanding ultra-premium end of the U.S. tequila market, where Don Julio gets about about half of its sales by volume and where Diageo has enjoyed booming tequila sales. The details of the deal indicate that Diageo is after a bigger foothold in Mexico, where about 41 percent of Don Julio is sold. "Diageo only distributed Don Julio in the U.S. and the rest of the world—but not in Mexico," spokeswoman Alix Dunn explained in an e-mail. Once the deal is finalized in a few months, pending regulatory approvals, Diageo will have 100 percent ownership of the Don Julio brand, the production facility, and worldwide distribution.

Deirdre Mahlan, Diageo's chief financial officer, told reporters that the sale will "strengthen our global position in tequila." Even globally, the tequila market is dominated by the U.S. and Mexico, according to data from researcher Euromonitor International. In Mexico, Mahlan noted, about one-third of spirits sales are tequila.
Diageo previously looked to acquire the Cuervo brand, but those talks failed in 2012. Now it is reclaiming a smaller tequila label with Don Julio, which it owned for a few years until 2003, when it sold Cuervo a 50 percent stake.
Not only will the deal give Diageo greater access to the Mexico market through Don Julio, but it also returns control of Smirnoff production and distribution in Mexico, which originally wasn't supposed to happen until 2017. "Overall our broader participation in local and international spirits with Don Julio and Smirnoff alongside our already strong Scotch and rum brands will allow us to really position ourselves to capture significant growth in the Mexican market," said Mahlan, describing Mexico as "an important emerging market."
The alcohol industry in Mexico has been hit by a slow economy, but Euromonitor expects things to pick up in the next few years, as economic growth boosts the confidence of Mexico's middle class.
Before it's here, it's on the Bloomberg Terminal.
LEARN MORE