China Home Buyers Rushing Online to Finance Downpayments
Bloomberg News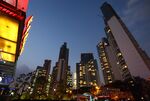 Qian Kaishen and his wife almost gave up in August on buying a bigger home. As apartments at Shanghai Villa, a project they liked near the city's Hongqiao Airport, started selling, the money they had saved for the deposit was tied up in a 5 percent-return investment.
Then property agency E-House China Holdings Ltd. offered the couple a 280,000 yuan ($45,546) one-year bridge loan at zero interest. The loan came from online investors through E-House's Internet finance website. It covered about half the down payment and was just enough to make up the shortfall.
"Now we're good both on our investment and home purchase plan," Qian, 31, who works for a local logistics company, said by phone from Shanghai. "We would've given up if it weren't for the loan. I don't like borrowing from my parents or relatives, especially because we have the money."
E-House is joining peer-to-peer lenders to finance down payments for buyers struggling to scrape together a deposit after home prices had tripled since 2000. Mortgage lending remains tight, even after the central bank eased its policy in September, as banks anticipate an extended property market decline because of a high supply of housing, according to Standard Chartered Plc.
Home prices in China are now equivalent to 40 years' average income for a 100-square-meter (1,076-square-foot) apartment. That compares with 26 years' median income in New York for an apartment of the same size. The average price of a typical 900-square-foot home in Singapore is 11 times the median household income, while that for a 50-square-meter flat in Hong Kong is 14 times, according to local official data.
Government Restrictions
In China, homebuyers need to pay a minimum down payment of 30 percent of the purchase price for a first home, and at least 60 percent for a second before they can take out a mortgage. The limits are the result of a four-year campaign to stem property speculation.
Those restrictions have helped drive demand for the down payment loans.
"The phenomenon emerged in the past year or two largely because of mortgage restrictions and high down-payment requirements," said Zhang Haiqing, a Shanghai-based research director at Centaline Group, China's biggest property agency.
The central bank on Sept. 30 eased some mortgage rules to make it easier to purchase second properties in a bid to revive the market.
"We can't exclude the possibility that as the market recovers, more people will want to buy and some of them will still have to use this channel because they don't have the money," Zhang said.
Sales Falling
New-home sales slumped 11 percent in the first nine months of the year and prices fell in all but one of the 70 cities monitored by the government in September from August.
Being able to borrow for a down payment means unqualified borrowers are getting mortgages, a practice that led to the U.S. housing crash in 2007, according to Standard & Poor's.
"The pressure on the borrowers to repay the down payment in a year together with the mortgage is fairly high," Bei Fu, S&P's Hong Kong-based property analyst, said by phone. If this becomes a trend, "investors will be bearing the brunt of the default risks when the market or economy makes a negative turn."
Low down payment lending to subprime borrowers, those with poor credit and limited cash, also contributed to the surge in foreclosures in the U.S.
"The less of the homeowner's own money is put into the payment, the more likely he or she will default" when asset prices plunge, Centaline's Zhang said. "The risk is brewing slowly."
Relatives Help
In China, most of those who borrow for down payments have money invested elsewhere, according to E-House Deputy Chief Financial Officer Ma Weijie. Buyers who want to purchase homes and don't have the money often turn to relatives or take out consumer loans from banks to use as deposits, a practice the banking regulator has banned, Centaline's Zhang said.
E-House, based in Shanghai, has helped more than 70 homebuyers seeking deposits raise almost 20 million yuan through online finance platform fangjs.com, which it set up in July with web portal operator Sina Corp.
It caps lending for deposits at 15 percent of the price of a buyer's first home and 20 percent for second properties, and only lends to owner-occupiers.
The company collects a 1 percent fee from borrowers like Qian, E-House's Ma said. Developers who want to boost sales subsidize the interest payments to investors and provide guarantees or deposits to E-House against potential defaults by the borrowers.
Homebuilders Join
China Overseas Land & Investment Ltd. and Poly Real Estate Group Co. are among 22 homebuilders that have signed up with E-House to provide the service at some of their projects, Ma said.
Online property lending may rise to 20 billion yuan this year and has the potential to grow to about 1.2 trillion yuan a year assuming 15 percent of home sales are financed by peer-to-peer investors, E-House's Ma estimates.
"That's a huge market," he said in a Sept. 10 interview in Beijing. The central bank's easing may spur borrowing demand as the market recovers even if buyers don't have the money, he added later.
Peer-to-peer lending has taken off in China since 2011 as traditional methods of private lending among family and acquaintances, part of the country's unregulated $6 trillion shadow-banking system, move online. Peer-to-peer lending refers to borrowers bypassing banks by connecting directly to lenders via the Internet.
Investors through peer-to-peer websites have helped drive a 50-fold increase in online financing to 64.6 billion yuan as of Sept. 30, for anything from weddings to personal medical expenses, according to wangdaizhijia.com, which tracks more than 1,000 of such little-supervised sites in China. The country has no regulations governing Internet finance.
Micro Credit
Shenzhen World Union Properties Consultancy Inc., based in the southern Chinese city that borders Hong Kong, granted 551 million yuan in similar loans through a micro-credit unit in the first half of this year, after introducing the service in July 2013 for clients who didn't have a down payment.
Shenzhen World Union charges interest of more than 20 percent on some of its loans. Financial-services' income jumped 139 percent in the first half, driven mostly by the 60 million yuan from the loan service, according to company filings.
The trend gained momentum in September when Ping An Insurance (Group) Co., China's second-largest insurer, began offering loans to buyers of 121 residential projects by Shimao Group and Greenland Group at interest rates as low as zero.
Ping An, based in Shenzhen, is ready to extend 10 billion yuan each in Beijing and Shanghai for down payments, and as much as 8 billion yuan in the southern city of Guangzhou, Zhuang Nuo, chief executive officer of Ping An's real estate e-commerce unit, said.
Online Investors
Ping An pools the money to finance the deposits mainly from online investors at its peer-to-peer lending unit, said Zhuang. Developers subsidize the returns to the investors.
The insurer is targeting people who buy homes to live in, not property speculators. It doesn't charge borrowers a fee.
"Since traditional banks can't finance down payments and aren't doing it, can we use Internet finance to support those people?" said Zhuang. "The default risk is not big. They see their home as a necessity."
Requests have so far exceeded 1 billion yuan for Ping An's service, the company said.
Lending to finance down payments is hard to regulate, said Johnson Hu, Hong Kong-based property analyst at CIMB Securities Research.
"As long as the money is in the account, you can simply say you borrowed it from a friend," Hu said.
Not Recorded
Borrowing from peer-to-peer websites is not recorded in the central bank's credit information database, which banks rely on for borrowers' credit history, said Ping An's Zhuang. Ping An controls Shenzhen-listed Ping An Bank Co.
The Qians' investment through the Industrial & Commercial Bank of China Ltd. matures in June and their E-House loan becomes due two months later. They borrowed 600,000 yuan from the local housing providence fund, which pools money from urban residents and their employers for housing needs. The couple is also selling their 40-square-meter current home for about 1 million yuan to finance the new one that's double the size.
Although home prices are still falling, Qian said he didn't want to wait. "If our living conditions improved, that price difference doesn't matter," Qian said.
— With assistance by Dingmin Zhang
Before it's here, it's on the Bloomberg Terminal.
LEARN MORE