Bill Gates-Backed Group Weighs Funding for Ebola Vaccine
Simeon Bennett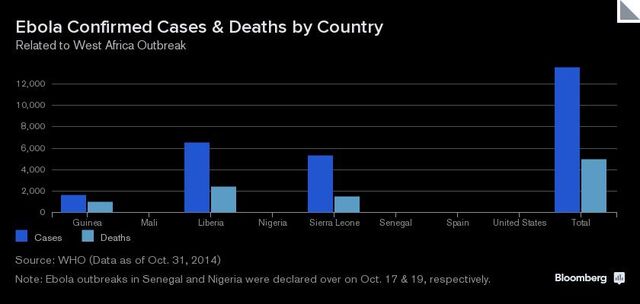 As GlaxoSmithKline Plc and other drugmakers race to develop and deploy vaccines against West Africa's Ebola outbreak, one key question remains: who will pay?
One answer is the GAVI Alliance, the Geneva-based organization funded by governments and the Bill & Melinda Gates Foundation that is the biggest provider of money for vaccines sent to developing nations. The alliance is in talks with Glaxo, the World Health Organization and others about paying for the vaccines, and its board will make a decision when it meets next month, said Seth Berkley, GAVI's chief executive officer.
GAVI is weighing whether to make an advanced commitment to buy vaccines at a premium to the manufacturing costs to spur drugmakers to speed development, Berkley said in a telephone interview. That may be necessary if Glaxo and other developers aren't willing to donate the shots or to make the investments necessary to scale up production, he said.
"They have to ask their shareholders whether they want to spend that kind of money on something that is not going to be profitable," Berkley said. "There is no market for a vaccine in these countries. We would work with the countries to help subsidize the cost."
Glaxo has accelerated development of a vaccine as part of "the humanitarian effort to try to help tackle the outbreak," Catherine Hartley, a spokeswoman for the London-based company, said in an e-mail. "In the longer term and if the vaccine is successful, we will need to work with partners to determine how vaccine could be provided through donation or some other mechanism."
Three Scenarios
GAVI is evaluating three scenarios for how the vaccines might be used, Berkley said. The first is that by the time the shots are ready, the epidemic will be over.
"That has to be everybody's best hope," he said. "If that is the case, one of the critical issues is to make sure that we ultimately get a vaccine that could be used in the next outbreak."
The second scenario is one in which the epidemic is subsiding but a vaccine could still be used to protect those most at risk, such as health workers. The third is that Ebola continues to expand in the affected countries, and into other nations with fragile health systems, requiring mass production of vaccines, Berkley said.
GAVI held a workshop today to discuss options to present to its board. No one knows yet whether the vaccines will even work, Berkley said in the interview.
Mice to Men
"They do protect in the animal model, but we've been fooled in the past by animal models," he said. "Mice lie, monkeys don't always tell the truth."
Glaxo and NewLink Genetics Corp. have started safety trials on humans, and results are expected by mid-December. The vaccines could be scaled up for production during the first quarter of next year and be deployed in the second half, according to Marie-Paule Kieny, the WHO's assistant director-general for health systems and innovation.
The development of the vaccines marks a "remarkable acceleration," Berkley said. British regulators approved the protocol for a trial of Glaxo's vaccine in four days, instead of the "weeks to months" it normally takes, he said.
Vaccines can cost $500 million to $1 billion to develop, according to PATH, a Seattle-based organization that aims to speed development of drugs and vaccines for developing countries.
Johnson & Johnson, the New Brunswick, New Jersey-based company also working on Ebola vaccines, and NewLink didn't immediately respond to questions about whether they plan to donate vaccines or will seek reimbursement.
Glaxo got its experimental Ebola vaccine with the purchase of Basel, Switzerland-based Okairos AG last year for 250 million euros ($314 million). The company didn't immediately have a figure for its investment in developing the vaccine, Hartley said.
Before it's here, it's on the Bloomberg Terminal.
LEARN MORE