Xi's Baby Steps Too Tame to Defuse Demographic Challenge
Bloomberg News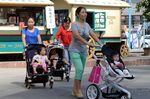 Xibao entered the world two months ago with all the joy a baby brings, nuzzling into her mother's neck, tiny fingers gripping dad's hand for the first time.
Her arrival also stands to cost her parents 267,918 yuan ($43,800) in fines, or even jail time if they can't pay up.
One year on from a relaxation in China's 35-year-old one-child policy, Xibao's birth was illegal because she's the second child to parents who both had siblings.
"It's so unreasonable, the government should thank me, not punish me, for having my second baby," said 36-year-old Shenzhen mother Crystal Li, who declined to give her Chinese name. "It's my baby, but it's also the country's future."
As part of President Xi Jinping's policy blueprint a year ago, couples where either parent is a single child were allowed a second baby, where previously that was permitted when both parents were the only offspring. In a society taught for a generation to regard large families as decadent, few have yet responded to the policy tweak, leaving China on an aging demographic path that's eroding economic growth.
Of a population of 1.36 billion, just 11 million couples qualified to legally have a second child under the new rules. Of those, only 690,000 had applied to do so by the end of August, according to data from the family planning commission.
"Time has changed, young couples no longer want to have two or four babies," said Zuo Xuejin, a demographics researcher with the Shanghai Academy of Social Sciences. "China has to make a U-turn in its family-planning policy from restricting births to encouraging them."
Japan's Path
Risks are rising that China will repeat Japan's demographic path, resulting in slower economic growth, said Zuo. The current birth-control regime is "outdated" and may be replaced by pro-birth policies before 2020, he said.
An aging society is deepening challenges for an economy already in the grips of a structural slowdown. Population aging will depress the average economic growth rate to below 4 percent between now and 2030, according to Yi Fuxian, author of "A Big Country with an Empty Nest," which criticized the government's family planning policies.
Japan's economy has stalled since its labor population peaked in the mid-1990s and growth in South Korea and Taiwan have also slowed partly due to demographic changes, Yi said.
"Population alone can't ensure development, but without sufficient labor, it's impossible to talk about development," Yi said. "The picture would be particularly harsh for China, a country with a huge labor-intensive manufacturing industry."
Declining Workforce
The workforce of people aged 16 to 59 declined 2.44 million in 2013, data from the National Bureau of Statistics shows. Needing 2.1 kids per couple to keep the population stable, Zuo in Shanghai said the rate dropped below that level after 1990 and the current 1.5 average means the population will start to fall within the next 10 years.
"China's demographic situation and labor supply have fundamentally changed," Yi Gang, deputy governor of China's central bank, wrote in an article published in the People's Daily yesterday. "The aging problem will intensify and it's impossible for China to sustain double-digit growth rate."
The reduced labor supply is among forces dragging China's potential growth rate from an annual 7.6 percent in 2011-2015 to 6.2 percent in 2016-2020, said Cai Fang, vice president of the Chinese Academy of Social Sciences.
For those permitted to have a second child, economic constraints are often preventing the shift to a larger family.
"It's just too expensive," said Stephen Jiang, a 36-year-old Beijing resident. With a four-year-old son and sharing an apartment with his parents, Jiang said having a second baby is a luxury he can't afford.
Meddling Policies
"The family planning policy of restricting births should be abandoned," said Liang Zhongtang, a former researcher with the Shanxi government who helped conduct a two-child policy trial in rural Yicheng county under approval from the central government. "But it's just difficult for the government to stop its meddling in peoples' most basic rights."
While governments in Japan, Singapore, Europe, the U.S. and Australia give handouts or tax credits to alleviate costs for new births, China's family policies remain strictly enforced. When film director Zhang Yimou violated the rules, he was fined the equivalent of $1.2 million.
The one-child policy was introduced in 1979 as then leaders sought a smaller population to aid the nation's development. It contains various exceptions, with some minorities exempt altogether, and is enforced at a provincial level. Fines are levied according to parents' incomes and local average wages.
While the days of forced abortions as revealed by lawyer-turned-dissident Chen Guangcheng are largely past, the family-planning laws are still forcing life-changing shifts.
Susan Ma went to Hong Kong to give birth to her second baby and is now planning to move her family to Australia.
"I can put up with bad air and food problems, but I can't put up with the family planning policies," she said.
— With assistance by Xin Zhou
Before it's here, it's on the Bloomberg Terminal.
LEARN MORE