Women, Beware Everything
If you have a female-shaped body and are planning to cast a ballot, one overarching message comes through in these midterms.
By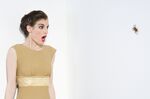 Ladies, I hate to break it to you, but you and I are not safe.
Some think Tuesday's midterm elections are a referendum on Obamacare. For others, the vote is over the president's performance on issues like unemployment, immigration, the Middle East, education, or even climate change and fracking. But if you, like me, have a female-shaped body and are planning to cast a ballot, one overarching message comes through: Look out. Beware, American women. You need to protect yourselves.
The national mood in the run-up to midterms has been one of almost baroque anxiety: Ebola, ISIS, the suffering economy, who can begin to feel at ease? Each candidate is trying to tilt the rattled public toward his or her calming solution. This November, too, the women's vote is in special demand. It's not that our demographic hasn't counted in the past—women make up the majority of the country's citizens, and voters, come to think of it—but the gender gap between parties has noticeably diminished. The same female voters who helped Barack Obama beat Mitt Romney in 2012 can't be counted on to vote blue in 2014. Some attempts to target women with appeals to salon and shopping pursuits—take the Rick Scott ad mimicking the TLC reality show "Say Yes to the Dress"—have been roundly decried as condescending.
Others are stoking women's fears. It doesn't matter that the strategy is cynical; it could be effective on Election Day.
Start with the National Rifle Association. Last year, following the shootings at Sandy Hook Elementary School, the NRA relaunched its Women's Network to try to increase its female membership. The theme of its video series was "Armed & Fabulous." This year, a number of ads the NRA has run cater to women by showing other women in scenes of peril. In Louisiana, an ad targeting Senator Mary Landrieu, a Democrat, depicts a sweet-faced mother, in white robe and pajamas, putting her baby to sleep in a crib. She receives a text: "Landed. Miami." As soon as we learn she's alone with her infant, an intruder kicks in the front door.  The female narrator says: "The police can't get there in time. How you defend yourself is up to you. It's your choice."
Another ad, described by New York Times editorial writer David Firestone as the NRA's "worst commercial," introduces a rape victim who describes her assault, then turns her ire to the man who she says wants to take away her right to self-protection: Former New York Mayor Michael Bloomberg, founder and majority owner of Bloomberg Politics parent Bloomberg LP.  "Mr. Bloomberg," she says, "You do not have the right to tell me how to defend myself." 
Even gun-control advocates are playing into the connection between gender and fear. Former U.S. Rep. Gabrielle Giffords, a Democrat who is still recovering from the gunshot wound to the head she suffered almost four years ago, recently undertook a "Protect All Women" Tour, a nine-state campaign and lobbying push for stronger gun-control laws. Kicking off in Portland, Me., she said: "Dangerous people with guns are a threat to women. Stalkers with guns, abusers with guns: that makes gun violence a women's issue, for mothers, for families, for me and for you."
It's true that women are threatened acutely and disproportionately by stalking and by domestic abuse. All the same, statistics show that men are at far greater risk of gun violence than women. 
The vexed rhetoric is trending in every corner.  On MSNBC's "Morning Joe" last month, co-host Miki Brzezinski asked author and editor Tina Brown about the Democrats' diminished ability to take advantage of a gender gap in voting.  Brown responded that she doesn't think it has much to do with improvements in the Republican camp, but rather with broad disillusionment with the Democratic president. As she put it:
Particularly for women, I don't think he makes them feel safe. They're feeling unsafe. They feel unsafe economically. They're feeling unsafe with regard to ISIS. They're feeling unsafe about Ebola. What they feel unsafe about is the government response to different crises. And I think that they're beginning to feel a bit that Obama's like that guy in the corner office who's too cool for school, calls a meeting, says this has to change, doesn't put anything in place to make sure it does change. Then it goes wrong, and he's blaming everybody.
The message was particularly discordant, given that Brown is a well-known champion of equality.  
Yes, gun deaths are unspeakable; yes, ISIS terrifies; yes, Ebola worries us all. But targeting and exacerbating women's fears is lazy and manipulative, and it carries an insidious implication.  It's not that women shouldn't be worried. But in 2014, do we need to so broadly speak of one gender being more vulnerable, more afraid?