politics
Who Wore It Best in These Midterms? A Style Review
Do clothes make the candidate? If so, here are our endorsements in gubernatorial races.
By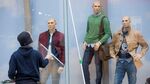 It's well documented that the least-informed voters, especially those who watch a lot of TV, are greatly influenced by the appearance of candidates. "In a nutshell, politicians who appear to look more competent have an advantage," said Alexander Todorov, a psychology professor at Princeton University who has been studying the tendency for years. "People's choices are heavily influenced by superficial nonverbal cues such as appearances."
So who is taking this electoral imperative seriously in gubernatorial races? We turned to Nic Screws for the answer. As Bloomberg Luxury's Style Director, she is the newsroom's top authority on menswear. In fact, she helped edit The Big Black Book, the bible of the menswear world, in her last gig at Esquire Magazine. 
Colorful Shirts
"The key to this look," says Nic, "is the slimness of the shirt, tucking it in–which should be a given, but you'd be surprised–and making sure your shoes and belt are not too dressy or casual for the look." 

Nic's Pick: Michaud, for his bold choice of color and fit. "I like it so much that I will pretend to not know that there is a cell phone hanging from his belt on his right hip, which went out of style before he was a U.S. congressman," she says. "I kid, it was never in style." 
Hawaiian Shirts and Leis
Says Nic: For regular menfolk who aren't running for a government office in the Aloha State (or are Magnum P.I.), avoiding this "festive" look is best. But if you must, pick muted tropical prints rather than obnoxiously bright ones, never tuck, and unbutton two buttons–max.

Nic's Pick: Hannemann (hard to beat that bike). 
Navy Sweaters and Wives
Says Nic: Navy sweaters are a true fall staple no matter where you are on the planet. A modern upgrade: Wear it as part of a head-to-toe tonal blue look. You could also use it as a neutral anchor to style around more ambitiously, like with a bold scarf, or statement shoes and socks.

Nic's Pick: Brown, almost by default. "We should really question the leadership of any man who allows his wife to wear an ankle-length denim prairie skirt, to match his stonewashed dad jeans," she says. 
Gray Ties

"Gray is a pretty hard color to mess up, Nic says, "unless you make it satin and pair it with a much darker shirt and suit (see Hess). Satin ties are for formal affairs only–proms, galas, and weddings, and even then, a wool-blend or silk option would be better." 
Nic's Pick: Hempy, for elevating his gray tie game with a micro print.
Scarves

Says Nic: Silk, especially bold prints, can always be added to accessorize a look and can drape under your blazer or jacket. When in doubt regarding color, you can't go wrong with red. If you're wearing a wool scarf to keep warm (see Hickenlooper), you should learn a good scarf tie or two.
Nic's Pick: Hickenlooper, assuming he ties it up when he walks outside.
Jackets
"A lightweight puffer jacket is always on trend, especially in a bright, primary color like red or royal blue," Nic says. "Guys can also try a puffer vest for a pop of high-tech color."

Nic's Pick: Cutler, but she gives props to Brownback. Instead of attempting the not-easy-to-fake effortlessly cool vibe, he goes for practicality with a sleek, neutral windbreaker. 
Hats

"Make it a baseball cap," Nic says. "And preferably only when you're playing baseball, or at least when attending the World Series as a photo op." 
Nic's Pick: Hess, though she's adamant that cowboy hats are truly one of the most undignified articles of clothing a man could wear. 
Before it's here, it's on the Bloomberg Terminal.
LEARN MORE