How Alaska's Senate Race Could Spell an All-Nighter
We won't get an early verdict from the Last Frontier. Will it matter?
By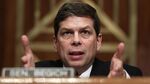 Alaska's Senate race won't go to a runoff, like Louisiana's will or Georgia's might. And there isn't the possibility of an independent winning, like in Kansas, to complicate predictions of which party will win a majority.
But Alaska—where Democratic Senator Mark Begich faces Republican Dan Sullivan—can throw its own monkey wrench into the Senate-majority sweepstakes.
Its polls close very late, and the ballots aren't counted as quickly as in other states. Voting ends in Alaska's 441 precincts on election day at midnight eastern time, with the exception of one precinct in the Aleutian Islands that closes an hour later. The first returns should be coming in right about then—1 a.m. eastern time or 9 p.m. Alaska time, said state elections director Gail Fenumiai.
Absentee ballots can be postmarked on election day and officials won't begin counting them until a week after the election, on Nov. 11, according to the elections schedule. Keep in mind how big Alaska is: about 571,000 square miles in land area, more than twice as big as Texas, with vast rural swaths. It's more than 1,000 miles from Ketchikan, in the southeastern part of the state, to Barrow, the northernmost U.S. city.
In 2008, Republican Senator Ted Stevens didn't concede his 1-point loss to Begich until 15 days after the election. Looking at the election history, you can understand why. The afternoon after the election, on Nov. 5, Stevens led Begich by 3,257 votes out of 221,713 cast:
A week later, on Nov. 12, Begich had pulled ahead by 814 votes out of 278,837 cast:
Six days after that, on Nov. 18, a nearly complete tally put Begich up by 3,724 votes. Stevens conceded the next day.
In the final tally, Begich won by 3,953 votes out of 317,723 cast. That meant that 96,010 votes, or more than 30 percent of the total, were tallied after that Nov. 5 count. 
So it's going to take a while to count the votes, and there may not be an apparent winner for some time. Alaska may be irrelevant to the Senate majority math if Republicans thrive in the competitive Senate races in states where the polls close earlier, including North Carolina, New Hampshire and Georgia (where the polls close at 8 p.m. eastern or earlier). Democrats surely have to win both North Carolina and New Hampshire to have a shot at keeping their 55-45 majority before we even get to Alaska.
And with Democratic incumbents struggling in Arkansas and Colorado, Georgia probably is a must-win on the Democrats' narrow path to a 50-seat majority plus Vice President Joe Biden. Democrats are trying to elect Michelle Nunn outright on Tuesday, though the race with Republican David Perdue may require a January runoff.
Alaska is known as a difficult state to poll; the average of the most recent surveys has Sullivan ahead in a state that President Barack Obama lost by 14 percentage points in the 2012 election.
Areas of Republican strength include the Mat-Su (Matanuska-Susitna) Valley north of Anchorage and the Kenai Peninsula south of the city. Some of the best-performing Democratic areas are in western and northern Alaska, as well as Juneau and the Mountain View area of Anchorage. Republicans outnumber Democrats on the voter registration rolls by more than 65,000, though voters who register as nonpartisan (no party affiliation) and undeclared (no party declared) together outnumber the two parties.