How Alaska's Senate Race Could Spell an All-Nighter
We won't get an early verdict from the Last Frontier. Will it matter?
By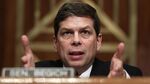 Alaska's Senate race won't go to a runoff, like Louisiana's will or Georgia's might. And there isn't the possibility of an independent winning, like in Kansas, to complicate predictions of which party will win a majority.