The 8 Best/Worst Lines from the Endorsements of Michael Grimm
Two New York newspapers have put forth two of the more remarkable endorsements of recent political history.
By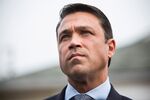 In arguing that Republican Congressman Michael Grimm represents the lesser of two evils in in an election that pits him against Democrat Domenic Recchia, two New York newspapers have put forth two of the more remarkable endorsements of recent political history. With Grimm facing a 20-count federal indictment for alleged tax fraud and perjury relating to his co-ownership of a restaurant prior to his 2010 election to Congress, as well as an assortment of other questionable behavior, it is truly a testament to what the newspapers see as the mind-bogglingly woeful candidacy of his opponent that they have endorsed the Republican incumbent. 
Here then are the best/worst lines from the grudging endorsement in The Staten Island Advance:
"We are not overlooking Mr. Grimm's considerable legal woes, of course. To have Staten Island's congressman under federal indictment has been a black mark on this borough and has made it the laughingstock of the nation."

"We learned that he spent considerable time in the ladies' room of a Brooklyn tavern with a female friend, who he claimed to be counseling."

"We heard he pulled a gun during a melee in a dance club in Manhattan."

"We heard him threaten to throw a reporter off a balcony because he didn't like a question posed."

"We know a female friend, said to have had a relationship with Mr. Grimm, pleaded guilty of channeling illegal campaign contributions to Mr. Grimm's campaign—something Mr. Grimm denies all knowledge of."
And a couple of gems found in the hold-your-nose-and-vote nod from The New York Daily News:
"At least Michael Grimm can string three sentences together in arguing that he deserves the presumption of innocence on federal criminal charges stemming from his past operation of a restaurant."

"Should he be convicted, Grimm has promised to resign, paving the way for a match between two fresh candidates. All the better."

"Unfortunately, he's the only alternative when the mantra must be anyone but Recchia."
The most recent New York 1/Capital New York/Siena College poll shows Grimm with a 19-point lead over Recchia.