Stop Saying 'Too Close to Call' to Refer to Tight Polling
The worst cliche in election journalism? Easy call.
By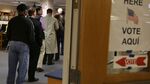 The media has a problem. It grows more severe with every election, and every headline or tweet. You can see the damage in the Denver Post, where Quinnipiac's Tim Malloy is relied on to describe new numbers, and says "U.S. Rep. Cory Gardner's comfortable lead over Sen. Mark Udall becomes a race too close to call." You can see it in Florida, where Quinnipiac's Peter Brown says the "governor's race is too close to call." You can see it in Illinois, where, relying on Public Policy Polling's final numbers, the race for governor is determined to be "too close to call." 
People: This is nonsense. These are simple English words squeezed dry of all meaning.  To "call" a race means something very specific–to pronounce, based on vote totals, that a candidate has been elected, or a ballot initiative has been passed, or a dog-catcher has been recalled, etc. It is done with votes, not three-digit or four-digit samples of possible electorates. Here's an example from the past week's Washington Post.
Two independent candidates hope to break the Democratic streak, and there is a chance the city will find itself in unchartered territory, with a mayoral race too close to call on the night of a general election.
See? Very soon, votes will be counted, and people will need to say who got the most of them, after which they will call the race. They cannot call the race right now. No one is saying that, say, "the Maine Senate race between Republican Susan Collins and Democrat Shenna Bellows can now be called," even though public polling has Collins leading by better than 20 points. Wouldn't that be crazy? It would. For the same reason, a tight race cannot be "too close to call" unless there are votes, which determine how close it is.
When I bang on about this, I'm told that "too close to call" is a figure of speech, and that there is no point trying to shame people out of using it. I was told the same thing when I insisted–accurately–that the automatic spending cuts of 2013 amounted to "sequestration," which is a noun, and not "the sequester," which is an article duct-taped to a verb.
Fine, yes, "too close to call" makes for easily suspenseful headlines and ledes. "Candidate mauled by sea monsters" would also be fantastic fodder for a headline. Yet those words are not put in that order, generally, unless candidates are mauled by sea monsters. Just as "too close to call" should not be said unless there are votes to look at. Which will happen in 28 hours or so. Take it easy.