Sounding the Alarm on the Rapid Spread of Drug-Resistant Tuberculosis
Christina Larson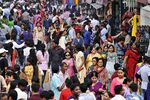 Widespread improper prescription and usage of antibiotics has given rise to drug-resistant strains of tuberculosis, badly straining the health-care systems of developing countries. A report from Médecins Sans Frontières (MSF) examines the rates of tuberculosis diagnosis and treatment in eight countries with high disease burdens—Brazil, India, Kenya, Myanmar, Russia, South Africa, Uzbekistan, and Zimbabwe—and found minimal compliance with World Health Organization guidelines for containing further spread of the disease.
Drug-resistant tuberculosis (DR-TB) "is a manmade disaster, born out of years of neglect and driven by a slow and piecemeal global response," Dr. Petros Isaakidis, MSF India medical epidemiologist and senior operational research fellow, said in a statement. According to World Health Organization estimates, less than one-third of DR-TB cases worldwide are diagnosed in a timely manner, and less than a fifth receive proper treatment.
The simple lack of facilities that can handle lab cultures and perform drug-susceptibility testing presents a major hurdle in five of the eight countries surveyed. India and Myanmar, for example, have only one adequate laboratory for every 25 million people, MSF estimates.
In four of the countries surveyed, more than 1 percent of the population is infected with HIV/AIDS, and co-infections with tuberculosis are common. In Myanmar, more than half of the patients being treated for drug-resistant malaria at MSF clinics also have HIV/AIDS.
"The lack of clinical trials incorporating new tuberculosis drugs into much-needed short, tolerable, and effective regimens highlights the failings in the way medical innovation is conducted and incentivized," said MSF's Isaakidis.
In a recent New Yorker column, James Surowiecki explained that "diseases that mostly affect poor people in poor countries aren't a research priority, because it's unlikely that those markets will ever provide a decent return." While international headlines are focused on the race for an Ebola vaccine, it's hardly the only fatal disease that's been neglected by drug companies. By Surowiecki's calculations, "diseases like malaria and tuberculosis, which together kill two million people a year, have received less attention from pharmaceutical companies than high cholesterol."
Before it's here, it's on the Bloomberg Terminal.
LEARN MORE