Sohu Gains Third Day Amid Video-Sharing Platform Purchase
Jackie Klauberg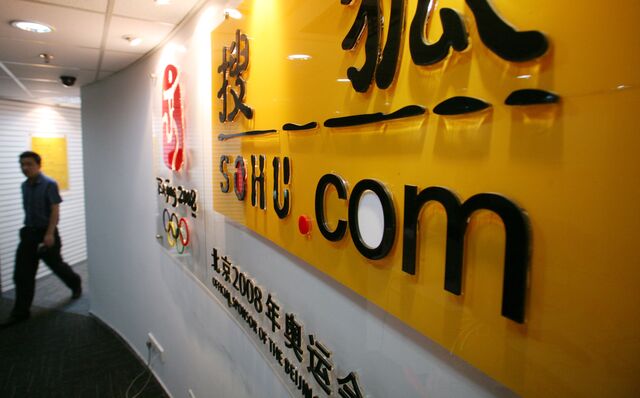 Sohu.com Inc., owner of China's third-largest search engine, rose to a one-month high yesterday amid reports that it is acquiring an online video platform to expand its business model.
Shares of Sohu climbed 3.5 percent to $50.30 yesterday, extending their three-day gain to 15 percent. The shares slipped 0.3 percent to $50.14 as of 10:30 a.m. in New York. The Bloomberg index of the most-traded Chinese stocks in the U.S. added 0.5 percent to 110.38. American depositary receipts of Changyou.com Ltd., Sohu's online gaming unit, climbed 5.1 percent yesterday for a three-day surge of 26 percent.
Sohu signed an agreement with Renren Inc. to buy online video platform 56.com, Renren's investor relations department said today, confirming previous reports from Sina Tech and Marbridge Consulting. Sohu, which is seeking to add online services and reduce its reliance on search and Web portals, reported a net loss of 61 cents a share yesterday, beating analyst estimates. The company, which was targeted in a government crackdown on content this year, has tumbled 31 percent this year.
"For Sohu it is a good move, helping it expand its already strong ecosystem further into online video sites," Cyrus Mewawalla, a London-based analyst at CM Research, said by e-mail yesterday. "User-generated video is one of the fastest growth sectors in the Internet. This strengthens Sohu's position in the race to develop Internet TV platforms in China and to profit from the significant ad revenues associated with that industry."
Government Crackdown
Renren has signed the agreement with Sohu and expects the transaction to close in a month or so, Beijing-based Renren's investor relations department said in an e-mail, without providing any details. The acquisition price, which was initially speculated to be about $12.9 million, compares with the $80 million Renren paid in 2011, Sina Tech reported last week, citing a person close to the deal.
Jeff Bloker, a spokesman for Sohu who works for Christensen Investor Relations Group, didn't immediately return e-mailed requests for comment on the deal.
Sohu has declined this year amid a government campaign against content considered offensive. China punished Sohu and other companies for spreading pornography or organizing prostitution via their products, Xinhua reported in September, citing the National Anti-Pornography and Anti-Illegal Publications Office and the Ministry of Public Security. In April, Sohu was ordered to remove the U.S. television show "The Big Bang Theory" from its website.
Online Game
China censors the Internet heavily, blocking websites including Facebook and deleting postings on microblogging services such as Sina Corp.'s Weibo Corp. that it deems a threat to social stability. The government said in April that the official campaign against pornography will continue until November.
Sohu and Changyou's recent gains were also made possible by the success of Tian Long Ba Bu, a new multiplayer online game, Henry Guo, a senior analyst at JG Capital Corp. in San Francisco, said by phone yesterday. According to Changyou, the game drew 1.36 million new users and received 12.6 million yuan ($2.1 million) in user credits in 24 hours.
The iShares China Large-Cap ETF, the largest Chinese exchange-traded fund in the U.S., declined 1 percent to $39.55. The Hang Seng China Enterprises Index of mainland stocks traded in Hong Kong fell 0.9 percent to 10,660.24, while the Shanghai Composite Index added 0.4 percent to 2,430.03.
Before it's here, it's on the Bloomberg Terminal.
LEARN MORE