Smog-Heavy China Tops Clean-Tech Investment Rankings
Christina Larson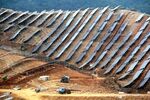 The best developing country in which to invest in clean-tech? It's China, according to a new analysis (pdf) by Climatescope, a collaborative research project whose partners include Bloomberg New Energy Finance and the U.K. Department for International Development.
China is, paradoxically, both the world's top emitter of greenhouse gases and the largest investor in green energy. This can be true because China's demand for energy is increasing quickly enough to stoke demand for both traditional fossil fuels and renewable energy. As the report notes, China's annual energy consumption ballooned a stunning 51 percent from 2008 to 2013. In the same period, India's power generating capacity expanded 56 percent, while the U.S.'s rose just 6.8 percent.
China is now the world's top maker of wind and solar equipment, with numerous factories supplying both component parts and finished products. While its solar manufacturing industry was originally export-oriented, China since 2013 has been "the largest demand market for renewables" and "has taken major strides to improve its domestic policy framework" for green energy investment, the report finds.
China's energy consumption is expected to peak between 2035 and 2040. After that, rising global energy demand will be led by other large developing nations, including India and Indonesia, where just 75 percent and 77 percent of the population, respectively, have reliable access to electricity.
Before it's here, it's on the Bloomberg Terminal.
LEARN MORE