Is China Trying to Mend Fences With Japan?
By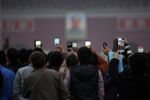 In a few days, China will host the annual APEC meeting in Beijing. It will be the first for President Obama since his second-term inauguration; more important, it might also present the best opportunity yet for the leaders of China and Japan to move beyond the disputes that have been poisoning bilateral relations since a territorial dispute over islands in the East China Sea flared up in 2012.
 
Chinese officials won't say whether President Xi Jinping will have a substantial meeting with Japanese Prime Minister Shinzo Abe. The official Xinhua news agency on Nov. 3 published a commentary explaining that people shouldn't raise their hopes too high. Certainly, China "will undoubtedly receive the Japanese leader with etiquette and hospitality," according to Xinhua, "despite chronic territorial rows and historical feud with Tokyo."
 
China has plenty of grievances with Abe, as the commentary complained about the latest visits by officials to the Yasukuni Shrine in Tokyo:
"China and South Korea, suffering from huge civilian casualties and economic losses due to Japan's invasion, were also alarmed by Abe's dangerous efforts to increase military buildup, lift restrictions on overseas battling and reinterpret the war-renouncing constitution. In short, it seems nothing more than a mere clumsy political stunt for the island country to advocate dialogue and fence-mending with neighbors on the one hand, while sticking to the bigoted course of fomenting strife and misgivings on the other."
Still, there are signs that China is interested in turning down the volume on its anti-Abe diatribes. Consider the commentary published in, of all places, the Global Times, the People's Daily-affiliated tabloid known for its nationalism. It's not reasonable for Chinese to get too worried about the revival of a militaristic Japan, explained Wang Zhanyang, a professor at the Central Institute of Socialism. "Avoid suffering from imaginary fears," Wang advised:
"With a democratic system, Japan's politics, diplomacy and defense are mainly decided by its economy, middle-class society and culture. Japanese leaders cannot act independently of these. As all these decisive factors are mostly pacifist, Japan is likely to stay on the path of peace. The international situation has to be viewed appropriately. We need to realize that rationally China doesn't face the risk of invasion and civilization is moving toward peace. Only with such understanding and confidence can we avoid overreaction, and in particular a deviation from China's focus on economic development."
Sure, it's possible to dismiss the Global Times commentary as just part of China's attempt to be a good host for the APEC leaders, but there are other signs of progress in Sino-Japanese ties. Last week, Vice President Li Yuanchao met with a delegation led by Keiji Yamada, governor of Kyoto Prefecture and president of Japan's National Governors' Association. China's defense ministry also said the two sides were talking about resuming cooperation on maritime affairs in the East China Sea, Xinhua reported.
With the Chinese economy slowing down, Xi and others in the leadership may genuinely be looking for ways to reduce tensions that could hurt growth at a sensitive time. "The estrangement serves the interests of neither side, and a rapprochement is long overdue," Xinhua's commentary said. Still, the Chinese seem to be waiting for the Japanese to make the next move. "Thus it would be highly pitiful for Abe to miss the enticing opportunity presented by the APEC gathering to improve China-Japan relations."
Before it's here, it's on the Bloomberg Terminal.
LEARN MORE