After Collapsing at Home, Quiznos Sees a Big Future Overseas
By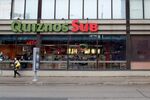 Quiznos barely made it out the U.S. alive. The toasted sandwich chain, which had once expanded to about 5,000 restaurants at home, had withered to 2,100 this year and filed for bankruptcy protection. Now, after restructuring, Quiznos hopes its fortunes will be more favorable in new lands.
Most Quiznos restaurants are in the U.S. and Canada, where competition for sandwich sales has rarely been more competitive. Lurking in the giant shadow of Subway and its more than 26,400 U.S. locations is also Jimmy John's, Firehouse Subs, Potbelly, and Jersey Mike's, among other expanding chains. Quiznos executives appear to have decided that their embattled chain would perform better in less crowded territories.
"We have recently seen the demand for U.S. restaurant brands like ours increase exponentially in several international markets," Kenneth Cutshaw, president of the international arm of Quiznos, wrote in an e-mail. Yet a move overseas puts Quiznos in competition not just with Subway and other sandwich shops, but any fast-food chain that promises to "deliver an American experience," as Cutshaw told QSR magazine (pdf) last year.
Such companies as Yum Brands and Starbucks, while much stronger at home, have also found hungry markets overseas. There are now more KFC restaurants in China now than in the U.S.
The key for Quiznos in plotting new growth will be to avoid repeating the mistakes that led to its recent collapse, including charging franchisees too much for food and offering customers too many discounts. The chain was among the worst franchise brands in Small Business Administration loan defaults, according to an analysis by the Wall Street Journal. Such problems have made it harder for franchisees to get loans in the U.S.
The overseas expansion will start with a focus on Asia and the Middle East. Quiznos opened its first location in Maylaysia last week, added its first in Abu Dhabi in September, and plans to enter Indonesia later this year. And that's just the start: With franchisees, the chain plans to open 1,500 restaurants in China over the next 11 years, 100 restaurants in Taiwan over the next 10 years, and 75 restaurants in Bahrain, the UAE, and Oman by 2021.
Before it's here, it's on the Bloomberg Terminal.
LEARN MORE