Ford, Toyota Increase U.S. Deliveries Amid Cheaper Fuel
Mark Clothier, Madeline O'Leary and Keith Naughton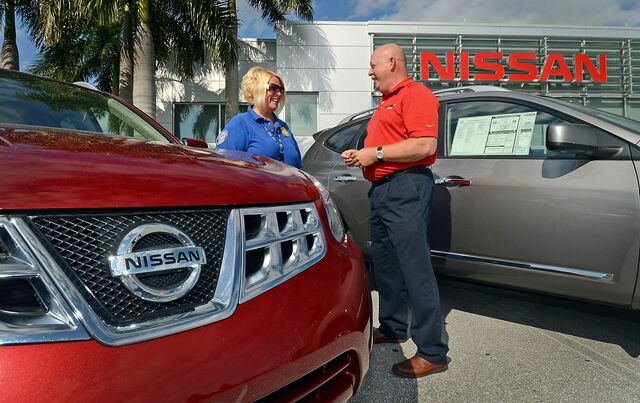 Ford Motor Co., Toyota Motor Corp., Fiat Chrysler Automobiles NV and Nissan Motor Co. reported U.S. sales that exceeded analysts' estimates as buyers emboldened by falling gasoline prices flocked to sport-utility vehicles.
Toyota deliveries rose 6.9 percent, topping the average estimate for a 6.4 percent gain as the RAV4 and Highlander SUVs set October records. Fiat Chrysler, led by the Jeep brand's 52 percent gain, said vehicle sales climbed 22 percent. Ford's light-vehicle sales fell 1.8 percent, better than analysts' estimate for a 4.3 percent decline. Ford's SUV sales rose 10 percent, while its car and truck sales declined.
Sales of SUVs, including crossovers, have been increasing as fuel prices have fallen this year. The average price for a gallon of gasoline in the U.S. fell to $2.98 as of Nov. 2, according to AAA, the motoring club. That's the lowest since December 2010. Combined with technology that allows some SUV models to achieve a rating of 30 miles (48 kilometers) or more per gallon of highway driving, the segment is seeing a revival.
"We call this the second coming of the SUV," Jeff Schuster, an analyst with LMC Automotive, said in an interview. "It's real and it's something that's going to be with us for a few years. Now you can get more fuel economy out of a vehicle that meets your lifestyle needs."
Total light-vehicle deliveries rose 6.1 percent to 1.28 million, according to researcher Autodata Corp., matching estimates compiled by Bloomberg. The annualized rate, adjusted for seasonal trends, rose to 16.5 million, for an eighth straight month of 16 million or faster, according to Woodcliff Lake, New Jersey-based Autodata. The average estimate was for a 16.4 million pace, up from 15.4 million a year earlier.
Improving Economy
General Motors Co. also had strong SUV sales even as it missed estimates.
"The U.S. economy has steadily improved all year," Kurt McNeil, GM's U.S. sales chief, said in a statement. "Now we are poised for a stronger expansion backed by an improved job market, higher consumer confidence and lower fuel prices."
Sales for GM, the largest U.S. automaker, rose 0.2 percent, less than analysts' forecast for a 3.1 percent gain. Its Buick brand had its best October since 2007 as its Encore small SUV posted a 33 percent gain. Sales of the Detroit-based automaker's Cadillac Escalade rose 30 percent and the Chevrolet Tahoe large SUV was up 6.1 percent last month.
"Utility vehicles, especially small and mid-size, are the story once again, as consumers are buying more and willing to pay more for these models," Alec Gutierrez, an analyst for Kelley Blue Book, said in an e-mailed statement. "With gas prices at a three-year low and with consumer confidence at a seven-year high, this trend should continue."
Strong Month
Fiat Chrysler, which began trading Oct. 13 on the New York Stock Exchange after the combination of Fiat SpA and Chrysler Group LLC, reported its best October since 2011.
"The performance across manufacturers is mixed, and I think we see continued variability," said Schuster. "Fiat Chrysler is outperforming, Ford was down as expected, and GM landed somewhere in between. It's a mixed bag once you get below the top line. All in all, the month is coming in stronger than expectations as the SUV continues to be strong."
GM shares dropped 0.6 percent to $31.20 at 3:21 p.m. New York time, while Ford declined 0.9 percent to $13.96 and Fiat Chrysler fell 2.8 percent to $11.14.
Fleet Shift
Chrysler brand sales rose 17 percent to 27,546, led by a 40 percent jump in deliveries of the new 200 sedan. Jeep sales soared to 55,198, led by the Cherokee, Grand Cherokee and Wrangler. Ram pickup sales jumped 33 percent to 39,834. The Auburn Hills, Michigan-based unit of the Italian-U.S. automaker exceeded the average analyst estimate, which was for a 20 percent, securing a 55th straight monthly increase.
GM said its total sales were held back by the discontinuation of the Chevy Captiva Sport model, which had been sold exclusively to fleet customers, and a decision to deploy more large SUVs to dealer lots rather than sell them to rental companies and other fleet customers. Fleet sales, including 7,479 Cruze compact cars, accounted for almost 23 percent of GM deliveries last month. GM sold 24,289 Cruzes, up 51 percent, as it sells down the 2014 model, Jim Cain, a spokesman, said in an e-mail.
Ford's Escape small SUV had its best October ever, with sales up 12 percent to 24,919 models, making it the company's second-best selling model behind only the F-Series pickup line. F-Series sales fell 0.6 percent as Dearborn, Michigan-based Ford converts its pickup factory in Michigan to build an new aluminum-bodied version of the popular F-150.
Fewer Cars
Sales fell for every Ford car except the Fusion sedan, which gained 5.1 percent to 22,846.
"Look at the Ford numbers, they sold only 50,000 cars out of their 180,000 total," John Krafcik, president of TrueCar.com, said in an interview. "That's one of the lowest percentages we've seen in a while. That speaks volumes to the consumer mindset right now."
The company's Lincoln brand increased sales 25 percent to 8,883, its best October since 2007, as deliveries of the refreshed full-size Navigator SUV rose 38 percent. The line was also aided by the new MKC compact SUV, which had its best month yet at 2,197.
"When you look at the small utility today, it's much different than utilities of the past," Erich Merkle, Ford's sales analyst, said today on a call with Wall Street professionals and reporters. "The small utility can get 30-plus miles per gallon, so there's not that significant penalty for purchasing a utility vehicle today that there may have been 12 years ago."
Weaker Yen
Japanese automakers' earnings will benefit from the boost in U.S. sales following the yen's weakening. The currency has fallen to an almost seven-year low against the dollar after the Bank of Japan expanded its record stimulus program on Oct. 31, increasing the value of repatriated earnings.
Honda Motor Co. deliveries climbed 5.8 percent on demand for the CR-V and Fit, falling short of estimates for an 8 percent gain. Honda reported a 30 percent increase in CR-V sales to 29,257. Fit sales jumped 83 percent to 6,851. Acura premium-brand deliveries rose 7.9 percent, while Honda brand gained 5.5 percent.
Nissan, Toyota
Nissan, including its Infiniti luxury brand, rose 13 percent last month, helped by demand for the Rogue crossover and Versa subcompact. That topped estimates for an 11 percent increase. Deliveries for the Nissan brand climbed 15 percent to 94,072 units, a 13th consecutive monthly record for the Yokohama, Japan-based company.
Sales of Nissan's Rogue climbed 14 percent to 14,685 units, the Versa rose 29 percent to 11,097 units, while the mid-size Altima sedan climbed 8.1 percent to 23,544 cars, Nissan said. Deliveries for Infiniti fell 1.2 percent to 9,045 units, the company said today in a statement.
Sales of the Murano crossover gained 38 percent to 4,271 as the automaker prepares to start production for the redesigned 2015 model at its Canton, Mississippi, assembly plant on Nov. 5.
Toyota, the world's largest automaker, said sales of its mid-size Camry, the top-selling car in the U.S., rose 14 percent.
"October vehicle sales were the best for the month in 10 years as an improving economy and lower gas prices drove strong SUV sales," said Bill Fay, Toyota division group vice president. "At Toyota we also saw a big jump in Camry sales thanks to the successful launch of the new 2015 model."
Delayed Reaction
The full effect of lower-cost fuel has yet to be seen because prices plummeted only recently, falling 9 percent in October, compared with a 2 percent decline in September, said Mark Wakefield, managing director and head of the automotive practice at consultant AlixPartners LLP.
"People are just starting to go to the pumps and realize, 'Wow! That's cheaper,'" Wakefield said in an interview. "It does take a bit of time for consumers to really adapt to a new normal gas price. Some people might be still waiting to see if this is real."
AlixPartners views oil prices as having found a "natural equilibrium" at $80 a barrel and will remain there for some time, Wakefield said.
"It's pretty impressive where oil prices are given what's going in the world," he said, referring to global crises such as the upheaval in Ukraine and Iraq. "It's amazing to see OPEC and Saudi Arabia in particular keep the taps flowing at this price. If they were going to do something, you would have thought they would have done it by now."
Before it's here, it's on the Bloomberg Terminal.
LEARN MORE