McDonald's Isn't Lovin' All the Attention to Its Slogan Ideas
by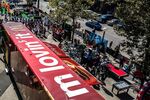 After reports came out last week that McDonald's would use the slogan "Lovin' Beats Hatin" in a new marketing campaign next year, the Internet lit up with mockery of the phrase. Then the burger chain denied this was its new slogan, insisting it had no plans to use the phrase even informally on social media.
Yet it seems the Golden Arches has been planning some new use for lovin' and hatin'. Burgerbusiness.com reported that McDonald's has filed to trademark "Lovin' > Hatin' " and the phrase "Lovin' Is Greater Than Hatin' " with the U.S. Patent and Trademark Office.


"We routinely file intent to use trademark applications as a regular course of business. We can't share details at this time as to how the trademarks may or may not be used," said spokeswoman Lisa McComb in an e-mail. It's exactly what the company said about its "McBrunch" trademark. Applebee's has likewise denied plans to develop a marketing campaign around the "No Tech Tuesday" phrase it applied to trademark.
Perhaps McDonald's has decided to go with the mathematical version of the phrase—or perhaps it has decided not to pursue the idea at all after seeing peoples' reactions online:
Before it's here, it's on the Bloomberg Terminal.
LEARN MORE