McDonald's Doesn't Have a Loyalty Program, but It Could Use One
by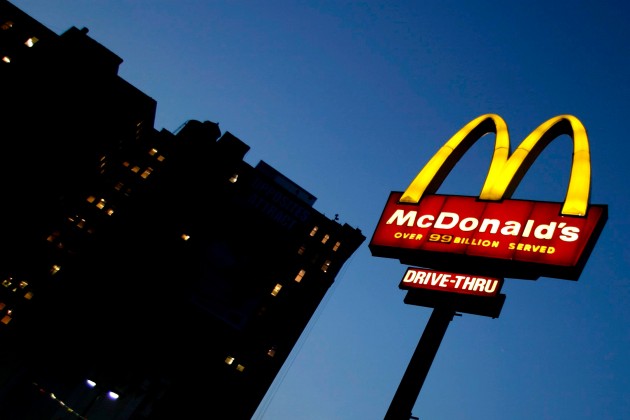 For McDonald's customers, the only reward is the food. It may be just a habit, a particular craving, or mere proximity that brings them to the Golden Arches, but no one goes because a loyalty card or, these days, an app lured them with discounts, points for free food, or other bonuses. McDonald's doesn't have a loyalty program yet—but it could use one.
Traffic at McDonald's stores is declining. In the U.S., comparable restaurant sales were down 3.3. percent last quarter. The company is looking for ways to bring in more customers more frequently, and one of the things it's considering is a new smartphone app, which would include promotional offers, mobile payment, and ordering, according to spokeswoman Becca Hary. The company declined to provide further details.
Other fast-food chains have loyalty programs. Customers at Starbucks can earn free drinks or food and get deals and early access to new products with My Starbucks Rewards. Subway has My Subway Card, and Panera has MyPanera. At Dunkin' Donuts, the rewards plan is called DD Perks. Taco Bell just launched an app with exclusive app-only deals.
None of the big three burger chains—McDonald's, Burger King, or Wendy's—has rolled out a national loyalty program.
"Fast food has always lagged behind in adopting and adapting to technology," says Darren Tristano, executive vice president of restaurant industry researcher Technomic in an e-mail. It's expensive, and restaurant margins are thin.
Yet loyalty programs have proven successful in luring small spenders in other industries, such as casinos. Harrah's, for example, introduced a Total Rewards program to "let even small gamblers get treated like movie stars in Vegas," as Bloomberg BusinessWeek reported in 2003. The cards collect data on the gambling behaviors of customers—such as elderly slot players who were largely neglected but make more money for Harrah's than any other demographic—and offers them such target benefits as free meals, shows, rooms, and merchandise. By 2010, the program was "the linchpin of Harrah's success."
In the restaurant business, survey data from a soon-to-be-released report from consulting firm AlixPartners show the share of customers who say loyalty programs influence their choice of restaurant is up to 40 percent, from 35 percent last year, but most people don't use the loyalty programs regularly.
Personally, the number of loyalty cards in my wallet is embarrassing: Walgreens, Rite Aid, Korean Air, a Macy's credit card, and Staples (I don't remember when I last went to Staples). As for food joints, I have cards for Starbucks, the wine store near my parents' house, the Korean lunch spot by my office, and the Key Food supermarket by my apartment.
What might disappoint any of these retailers is just how infrequently I use them. I somehow have zero Skypass miles on Korean Air, my lunch spot card has but one lonely stamp, and apparently I've made it to that particular wine store only twice. Turns out, I'm a horribly disloyal consumer.
Surely there are others like me, and retailers hope offering a loyalty program through a smartphone rather than a card can make the difference—there's nothing like having real-time access to your customers through a computer in their pockets that they check 150 times a day.
Starbucks, for instance, has 8 million active My Rewards users. Brick-and-mortar retailers, such as restaurants, "must create a high degree of mobile, social, and digital engagement and develop a seamless relationship with customers," said Howard Schultz, the chain's chief executive, during an earnings call in April. The loyalty card and app "enable us to deepen our connection to our customers and create further separation from competitors."
Before it's here, it's on the Bloomberg Terminal.
LEARN MORE