Greenberg's AIG Suit Provides Not-So-Fast Moment: Opening Line
C. Thompson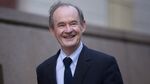 The pretrial wisdom had pegged this so-called AIG trial up to an old man, Maurice "Hank" Greenberg, attempting to exact revenge for the face he lost when the company he built over almost 40 years had to be seized, some might say nationalized, by the federal government to keep it from wreaking some of the worst possible havoc of the 2008 financial crisis.
It was a long shot, they said, probably having more do with Greenberg's desire to drag Tim Geithner, Henry Paulson and Ben Bernanke through the mud than anything. It would be next to impossible to show harm, considering how the company survived and in fact thrived.
"I think they're going to lose," Marcel Kahan, a New York University law professor who specializes in corporate finance and governance, said about Boies and Greenberg on the eve of the trial. "I think they realize they're going to lose. But you never know what's going to happen."
Got that right.
With the trial entering its sixth week today, suddenly it seems people are seeing it differently. Andrew Zajac and Christie Smythe take stock of the proceedings so far and find the arrow has moved. They note the adroit litigating by David Boies, the celebrated attorney representing Greenberg and the plaintiffs, as well as favorable rulings from the judge in this bench trial, Thomas Wheeler.
Wheeler appeared to be leaning even before the trial, based on reporting that he had criticized the U.S. for trying to keep AIG out of the case as well as "the low evaluation of Starr's potential success on the merits" of the case that AIG's lawyers represented to the board.
Reading today's story, we wonder whether Wheeler ever was prepared to give the U.S. government a fair hearing. News to us in the story is how much else the judge had written or said before the trial ever began -- years ago.
Zajac and Christie report Wheeler wrote in 2012 that he agreed with Starr's argument that the only consideration for a loan under the Fed's emergency powers can be an interest rate set by the board of governors -- not a demand for equity. He also wrote that he didn't buy the government's argument that the Federal Reserve Act conferred broad enough powers to take that equity, and that the Treasury Department's holding of the stake in a trust didn't mitigate any of this.
So, chalk it up to our ignorance, which is always on full display, when we wonder whether and how there was supposed to be any impartiality in this and whether, as suggested by today's story, this judge saw a vacuum in the federal powers at use for the first time since the Great Depression and decided he abhorred it.
***
ISM's manufacturing and prices-paid indexes are the chief U.S. economic indicator today, coming at 10 a.m. EDT, as well as auto sales throughout the day.
Sysco reports earnings before the market opens. After the bell, we'll hear from AIG, Frontier Communications, Tenet, Marathon Oil, Herbalife and Sprint, among a handful of others. Tomorrow it gets heavier.
Overnight, HSBC said earnings fell short as the bank set aside more than $1 billion to cover the cost of a currency-rigging investigation and other provisions. Reports show manufacturing stalled in October across Europe, grew in the U.K. and shrank in France and Italy. China's services industry slowed to a nine-month low in October. Hong Kong's September retail sales showed little effect from protests.
***
- Yellen and Obama hold their first one-on-one meeting since her confirmation as Fed chair in January. Really? Their first? - Stephen Poloz, the Bank of Canada governor, and Canadian Finance Minister Joe Oliver address the Canadian Council for Public-Private Partnerships, which is holding a two-day conference starting today. - Daniele Nouy, chairman of the ECB Supervisory Board, speaks at a European Parliament hearing in Brussels at 3 p.m., 9 a.m. EDT. - The Money 20/20 Conference continues in Las Vegas through Nov. 5. Bloomberg Television is there. - Game Developers Conference Next runs through tomorrow in Los Angeles. Check back tomorrow for a tally of how many women's lives were threatened. - Markets in Japan were closed for Culture Day. - WSJ/NBC poll finds likely voters want Republicans to control U.S. Senate by an amount well within the margin of error. - Eastern Ukrainian territory holds election that only Russia endorses. - Police charge former Bank of America banker with the murder of two women in Hong Kong. - Argentina judge invokes "universal jurisdiction" to order the arrest, extradition of former officials from General Francisco Franco's government in Spain. - Egypt continues its struggles with freedom of the press. - So does the U.S. - The effects of climate change from carbon emissions will be irreversible soon, according to a report from the UN's Intergovernmental Panel on Climate Change that sounds a lot more dire than the way we just wrote it. - Suicide bombing near India-Pakistan border kills at least 53. - Executions increased during Rouhani's first years as president of Iran. - Burkina Faso military lays down the law. - "Infectious fever" hospitalizes Argentina's Fernandez. Paging Chris Christie. - Nik Wallenda lives to tell the story. - Rocket engine on doomed Virgin Galactic flight wasn't the problem, U.S. examination finds. - Sorry, but snow this early in the season is cruel. - First synagogue opens in Brandenburg, Germany, since Kristallnacht. - A horrible end to a miserable life. - Cartagena, Colombia, commemorates the deaths of 10,000 English troops in an unsuccessful siege of the city during the War of Jenkins' Ear in 1741. Wait, what? - Someone thought it would be a good idea to reenact Christians vs. lions, except to make it the U.S. rugby team playing the New Zealand All Blacks. - Kenyans breeze to victory in New York City Marathon. But who was the millionth finisher? - Errant hockey puck kills 8-year-old boy at a game in France. - All you need is love.
***
The politically freighted case before the U.S. Supreme Court today has all the markings of a case with which no one in his right mind would want to get involved, coming as close as it does to the third rail -- the forever war between Israel and the Palestinians.
As Greg Stohr reports in his preview this morning, the high court will hear arguments that seek to overturn a federal appeals court ruling last year barring a 2012 law allowing American citizens born in Jerusalem to list Israel as their native country.
Except, as we all know, the sovereignty of Jerusalem itself is one of the things those two sides have been fighting about since 1967. By upholding the law, the Supreme Court risks, in effect, setting U.S. policy on the question of to whom Jerusalem belongs, a policy that presidential administrations have scrupulously avoided.
It's basically a whose-side-are-you-on moment. Israel, of course, is for the law, the Arabs are against it, the anti-Zionist orthodox Jews are against it, and Congress, by and large, is for it. That would be the same branch of government that's responsible for the law, so it stands to reason. But lurking behind this case is one also of separation of powers.
It's a ticklish moment in U.S.-Israeli relations right now, what with the whole "chickenshit" thing (we'd put a dash or an asterisk where the "i" is like everyone else has been, but c'mon, who are we kidding), and the U.S. opposition to Israel's plans to expand settlements in East Jerusalem, the part Palestinians would make their capital.
Stohr notes that the case "may produce the most significant ruling in decades on the balance of power between the president and Congress on foreign affairs," because it historically has been the executive branch that sets policy on recognition of foreign countries and territorial boundaries. At least that's how the administration sees it.
So, is this about standing up for Israel or about hiding behind that concept while grabbing power from the executive branch?
***
One of the marks of a good story is that it uncovers something you'd never thought about and leaves you undecided about how you feel about it. We've got one for you today.
But first, we take you to Flushing Meadows and the U.S. Open circa late 1980s, before the FAA started adjusting flight patterns out of LaGuardia to diminish the constant noise from overflights during the tournament. Mets fans from the Shea Stadium era will recall the same unpleasantness.
Hour after hour, day after day, a daily part of life for those who have the misfortune to live under a flight path is the nerve-jangling ubiquity of thousands of pounds of jetliner thrust climbing up your spine. But at least you knew there was an airport there. It's not like it snuck up on you.
Swap out the jet engines for the unceasing chop-chop-chop of helicopters flying tourists around greater New York City for 10 hours a day, and you have the current dilemma. In this case, the rising popularity of the tours does carry some of the unexpected with it. You buy or rent a place in, say, Englewood, New Jersey, probably the last thing that occurred to you was to check whether someone in a chopper was going to be buzzing your backyard on the hour.
Elise Young, apparently reporting at times from inside one of the whirlybirds, takes us on a tour of New Yorkers who are being driven to distraction by the tourist flights, which are shattering nap times, ruining barbecues and stopping conversations with scheduled regularity from Battery Park City to Spuyten Duyvil, from New Jersey to the west to the Bronx to the east and pretty much anywhere and everywhere in between.
But then these flights are a major tourist attraction, bringing tens of millions of dollars in money annually, and New York is a tourist town. How to balance the two constituencies' demands will be the FAA's challenge. Who ya got?
***
Before heading home to the country after a night in the city a couple weeks ago, we went through the necessary stages of repair to right the ship after an extended cocktail hour: We'd stopped imbibing at least an hour and a half before getting behind the wheel, sucked down more water in that span than we had that whole week, and popped a couple more pretzel nuggets to soak up the water and what the water was diluting.
Even with the repair period, you've got a lot of poison sloshing around down there, and a few stale pretzel bits at the bar will not have done you much good the next morning, which it already is. Forty-five minutes later -- and those of who make these trips know what's coming next -- we saw the Golden Arches coming into view, and lo, there was light, and it was good.
The fast-food chains, it turns out, know this, now more than ever. If you're a city dweller, you'd just pop into an all-night diner. But out in the woods, you're heading for the crossroads of Wendy's and weary, as Leslie Patton reports.
Late-night traffic at fast-food places jumped 12 percent in the year ended in August, she writes, citing industry data, compared with a gain of just 0.2 percent for total traffic.
With the extra hours come extra headaches, though. The late-night crowd is there because of the state it's in, and the state it's in can often lead to less than 9-to-5 behavior. Rowdiness, fights, someone ready to smash the drive-in window because it's 4 a.m. and they can't have an Egg McMuffin for a couple more hours -- these issues can take some of the fun out of it.
Never understood those people's rage. At 4 a.m., we'll eat anything.
***
We had one of those days last week that had us reassessing everything about the career we chose, and sometimes, in that frame of mind, instead of plopping down in front of a quart of butter brickle ice cream and a handle of Wild Turkey 101, we watch "All the President's Men."
It's a reporter thing.
Watergate arguably did more to usher in the convention of unnamed sources behind news than perhaps anything before or since, and it's been a slippery slope ever since. Because Watergate also arguably did more to make the public wary of the power of the press than anything before or since. Gotcha journalism became a cottage industry, swelled the ranks of journalism schools and taught everyone the simple beauty of "no comment."
So we rely more and more on people who won't speak on the record because they want to cover their butts, and this leads to a bargain journalists aren't happy making. Because once in a while -- more than once in a while -- they get burned.
They include the reporter at the Washington Post, and who knows how many other news outlets afterward, who erroneously reported that a privately contracted, armed security guard riding an elevator with Obama at the Centers for Disease Control and Prevention in Atlanta on Sept. 16 had been convicted of a felony.
"The Post reported the elevator incident on Sept. 30, citing sources with knowledge of the case," the newspaper reported over the weekend. The sources, it seems, didn't have the best knowledge of the case. It's a correction so meaty that it becomes its own story. "The Post account described the man as a convicted felon; the Washington Examiner, which first reported the incident that day, said he had a criminal record."
The Examiner never goes into further detail about the criminal record, information it got from "a source."
The New York Times reports the man, Kenneth Tate, whom it interviewed, "had been arrested several times, including on charges of robbery and assault, but was never convicted." It doesn't cite any source for that information at all, on or off the record.
That incident only fueled the fire that had already been burning under the U.S. Secret Service, one that eventually cost the director, Julia Pierson, her job, as well as Tate's.
We make mistakes in this kind of work, and there is no rewind button.
***
You've got your inversions, you've got your earnings stripping, you've got your charitable trusts and any number of other vehicles for reducing your tax burden, but you haven't really seen it all orchestrated like James Levine until you've read Jessie Drucker's story today about John Malone.
We're not going to get into the rant stance about this anymore. Whatever. Schools and bridges be damned. Taxation has been a lament in the U.S. since before there technically was a U.S., and in the current I've-got-mine-you-get-yours political landscape, the neo-frontier ethic, and with a Congress incapable of tying its shoes let alone uncomplicated tax laws it complicated, every man and woman for themselves certainly fits the theme.
But few are playing the tune like Malone, a man whose net worth is somewhere north of $7 billion.
We can't get into all the maneuvering detailed in Drucker's story, nor would we want to, because his story is what should be read, not this stupid column. But we will just give you a taste of the pièce de résistance, the one where Malone takes a law intended to impede tax dodging and uses it to legally dodge even more tax.
Under a 2008 rule from the Treasury Department, deals could be exempt from certain taxation if they generated "at least as much corporate income as the shareholders' potential gain," as Drucker writes. Malone and his tax lawyers were able to engineer the deal at the center of the story so that it met the requirements for that exemption and also so that the profits were attributed to a U.K. subsidiary. The net effect: no tax. None. Or what a law professor Drucker spoke to referred to as Malone throwing "a multibillion-dollar left hook at the Treasury."
When you're good, you're good.
***
It's a funny world in the NFL, when it isn't so dispiriting.
In Kansas City, Missouri, former Eagles quarterback Michael Vick replaced Geno Smith under center for the New York Jets, who would go on to lose again, 24-10, to the Chiefs.
In Houston, former Jets quarterback Mark Sanchez stepped in after a first-quarter injury to Philadelphia quarterback Nick Foles to lead the Eagles to a 31-21 victory over the Texans.
What was it Bum Phillips said about Don Shula? "He can take his'n and beat your'n and take your'n and beat his'n." Not quite a parallel, but still.
Before it's here, it's on the Bloomberg Terminal.
LEARN MORE