German Anti-Euro Party Seeks Alliance for Post-Merkel Era
Rainer Buergin and Brian Parkin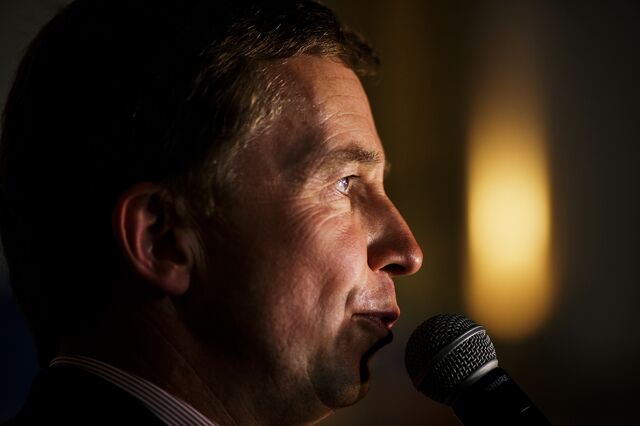 Germany's anti-euro Alternative for Germany says its chances of getting a national share of power will increase after Chancellor Angela Merkel leaves the scene.
The party, which won seats in the European Parliament and three state assemblies in eastern Germany this year, is gaining support among members of Merkel's Christian Democratic Union as it seeks to broaden its base, party head Bernd Lucke said in an interview. Merkel and Finance Minister Wolfgang Schaeuble are ruling out cooperation, so Alternative for Germany is looking to the next generation of CDU leaders to open up its chances.
Merkel, whose third term runs until 2017, is keeping Alternative for Germany, or AfD, at arm's length as the party challenges her past support for euro-area bailouts and tacit backing of European Central Bank policies. Schaeuble said the party, which promotes three-children families and denounces crime by eastern Europeans, is "a shame for Germany."
"I believe that there is common ground between AfD and CDU that makes cooperation possible in the long run," Lucke said on Oct. 27 in Berlin. "I get many, also appreciative, private comments from CDU members, in part also from second-tier CDU members. Mr. Schaeuble is Mr. Schaeuble, not the CDU."
Lucke, an economist who's one of seven Alternative for Germany members in the 751-seat European Parliament, says an opening could come if Germany's Social Democratic Party, now Merkel's junior coalition partner, starts allying with the anti-capitalist Left and the Greens. A Left-led state coalition is poised to emerge in Thuringia after the CDU lost control of the eastern region in elections in September.
Freezing Out
"It's a fair assessment of Lucke's that Merkel's leadership stands in the way of potentially broader support for the AfD," Frank Decker, a political science professor at Bonn University, said by phone on Oct. 30, using the party's German acronym. "The CDU's policy of ignoring the AfD, hoping it will fade away, has failed."
While the AfD didn't win any seats in the September 2013 national election, its inroads in state votes have provoked criticism within Merkel's bloc and calls to consider Alternative for Germany as a possible partner.
"I'd like to see at last that the CDU openly comes to terms with the AfD phenomenon, analyzes the motives of voters to support it and formulates policy to tackle the AfD in the future," Wolfgang Bosbach, a senior CDU lawmaker, said in an Oct. 30 interview.
Merkel and Schaeuble are to blame for the Christian Union bloc's losses to the AfD because they alienated conservative voters, Thomas Jahn, spokesman of a pressure group within the Bavaria-based CSU party, told Focus magazine on Oct. 24.
Rising Support
National polls suggest the AfD would win as much as 8 percent of the national vote if elections were held now, more than the 5 percent needed to win lower-house seats. The party is seeking to win seats in western Germany for the second time on Feb. 15 in an assembly election in SPD-ruled Hamburg, Germany's richest state per capita.
"The euro crisis is no longer as visible as it was in 2011 and 2012," Lucke said. "But the underlying problems of the lack of competitiveness of southern European countries, including France, the over-indebtedness of the southern states, possibly also including France, and the difficult situation of the banks are not resolved."
Before it's here, it's on the Bloomberg Terminal.
LEARN MORE