FIFA May Hold 2022 Qatar World Cup in January or November
Sara Marley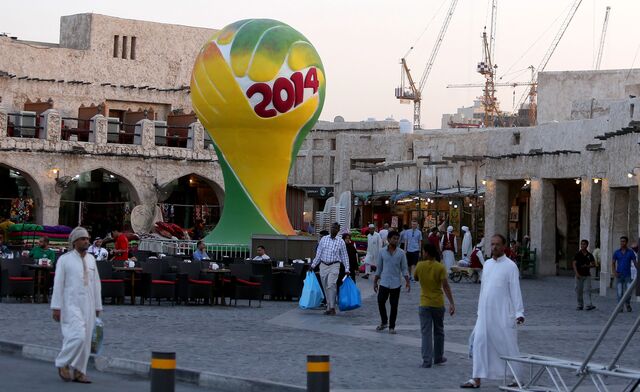 FIFA is considering holding soccer's 2022 World Cup in Qatar earlier or later than usual to avoid the hottest months in the Gulf state.
A FIFA task force today heard about medical concerns for players and fans if the month-long event is held between May and September. Summer temperatures in the desert state can reach 50 degrees Celsius (122 degrees Fahrenheit). The tournament has traditionally taken place in June and July, when European leagues are on break.
April and May or May and June have also been suggested, soccer's governing body said in an e-mailed statement. As well as league schedules, organizers must contend with possible conflicts with the Muslim-fasting period of Ramadan, beginning April 2, 2022, and the Winter Olympics, usually held in February.
"We are getting closer to narrowing the dates for the FIFA World Cup to two options – January/February 2022 or November/December 2022 – but FIFA has also been asked to consider May 2022," FIFA Secretary General Jerome Valcke said in an e-mailed statement. The next meeting on the timing will be held in early 2015.
The medical issues of players running in the desert heat and fans attending the matches was flagged to the FIFA panel that voted to award the tournament by its own technical committee before the December 2010 vote.
During its successful bid, Qatar said it would install carbon neutral air-cooling technology to ensure matches are played at optimal temperatures. It said the creation of the new cooling system would benefit countries around the world. Qatar has said it is prepared to hold the event in whatever time of year that FIFA decides is best.
Before it's here, it's on the Bloomberg Terminal.
LEARN MORE