Ebola Survivor Blood Trials May Pave Way for Use Early Next Year
Simeon Bennett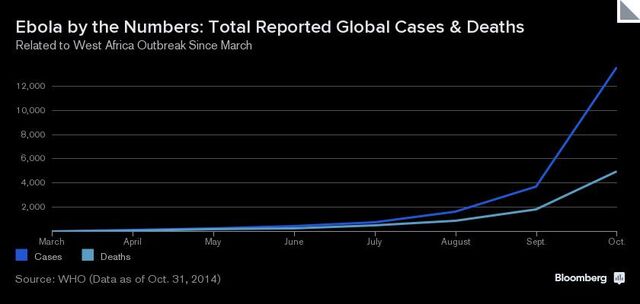 Blood taken from Ebola survivors may be used to treat those infected with the deadly virus early next year, before vaccines or experimental drugs become available, according to the World Health Organization.
Studies on the use of survivors' blood will start among hundreds of patients in Guinea, Liberia and Sierra Leone in the next few weeks, with results expected early in 2015 in a best-case scenario, said David Wood, the WHO official coordinating the initiative. If the results are positive, efforts to scale up the use of blood would begin immediately, Wood said in an interview at the WHO's headquarters in Geneva.
The agency said in September that survivor blood should be used as a matter of priority because it won't take as long to test as vaccines and drugs and is in more plentiful supply. The condition of Craig Spencer, a U.S. doctor who contracted Ebola in Guinea, was upgraded to "stable" on Nov. 1 after he was treated in New York with blood donated by survivor Nancy Writebol. The WHO has received similar positive anecdotal reports from West Africa, Wood said. Still, firm evidence that the treatment works is lacking.
"This is still an unknown treatment," Wood said. "Even with that caveat, everyone agrees it's a reasonable therapeutic option, and on that basis we're moving forward."
Kikwit Outbreak
Survivors' blood has been used before to treat Ebola. In 1995, during an outbreak in Kikwit in what is now the Democratic Republic of Congo, seven of eight infected people given the therapy survived during an outbreak with an 80 percent fatality rate. Subsequent studies in monkeys have shown conflicting results.
Once the blood is collected, doctors test it for diseases including HIV and hepatitis, and separate out the plasma. Antibodies in plasma are produced by white blood cells in response to foreign invaders in the body. They bind to the microbes, either neutralizing them or flagging them for other parts of the immune system to attack.
Survivors will have to have two negative tests for Ebola and a 28-day recovery period before they will be eligible to donate blood, Wood said. The timetable for results from the studies will depend on how quickly survivors come forward, he said.
"Are we going to get a flood of people or a trickle?" he said. "If it's a trickle, it'll take some time."
Airlift Plan
The WHO and its partners are conducting studies now to assess how to recruit donors. There is a plan to airlift mobile facilities to affected countries to collect and process blood on site from convalescent survivors, Marie-Paule Kieny, the WHO's assistant director-general for health systems and innovation, said in an Oct. 28 interview in Geneva.
Governments still need to authorize the plan, which is designed to avoid any concern that the potential blood-based treatment would be used only for people overseas and not locals, Kieny said at the time.
Human trials to test experimental vaccines for Ebola in West Africa will begin in December, the WHO said last month.
The mid-stage and late-stage trials to test vaccines from GlaxoSmithKline Plc and Johnson & Johnson will first be conducted in Liberia and Sierra Leone, it said. Mass vaccinations could begin in the second half of next year if the drugs are proven to be safe and effective, the epidemic scale justifies their use and there are sufficient quantities, according to the agency.
Before it's here, it's on the Bloomberg Terminal.
LEARN MORE