Blackstone Said Near $8 Billion Deal to Sell IndCor Unit
Sarah Mulholland and Hui-yong Yu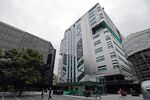 Blackstone Group LP is close to a deal to sell IndCor Properties Inc., an owner of U.S. industrial real estate, to investors led by Singapore's GIC Pte for more than $8 billion, said two people with knowledge of the matter.
The GIC partnership is seeking $5 billion in debt to finance the acquisition, said one of the people, who asked not to be identified because the negotiations are private. The two sides have reached an agreement in principle that could still fall apart, another person said.
IndCor had planned to raise about $1 billion through an initial public offering, which would have valued the company at about $8 billion, a person with knowledge of the plans said in August. A private sale would give Blackstone an assured profit on a major asset at a time when stocks have been volatile.
Peter Rose, a spokesman for New York-based Blackstone, and Jennifer Lewis, a spokeswoman for GIC, Singapore's sovereign-wealth fund, declined to comment.
IndCor, based in Chicago, said on Sept. 8 that it confidentially filed with the Securities and Exchange Commission for an IPO as a real estate investment trust. IndCor could still go public should Blackstone and the GIC group fail to reach a definitive agreement, said one of the people with knowledge of the plans. The Bloomberg REIT index has climbed 9 percent in the past month.
Blackstone, the world's biggest private-equity firm, started accumulating property in 2010 to build the industrial landlord. IndCor has about 118 million square feet (11 million square meters) of warehouses throughout the U.S.
Shopping Spree
GIC has been on a worldwide shopping spree for real estate, which accounted for 7 percent of its assets in the fiscal year ended March 31. Last month, the wealth fund bought a building next to Tokyo Station for $1.7 billion.
Last fiscal year, GIC acquired Blackstone's 50 percent stake in London's Broadgate office complex for more than $2.7 billion and teamed with New York-based developer Related Cos. and the Abu Dhabi Investment Authority to buy Time Warner Inc.'s headquarters in Manhattan for $1.3 billion.
The Singapore state fund is the world's sixth-biggest, with estimated assets under management of $315 billion, according to the website of London-based Institutional Investor's Sovereign Wealth Center.
GIC has been expanding beyond prime office towers in major cities. In September, a GIC affiliate and two Canadian pension funds invested $700 million in XPO Logistics Inc., a provider of services including airfreight forwarding and warehousing management that's based in Greenwich, Connecticut.
Trade Surge
Warehouse properties and logistics-services companies have attracted investment as global trade increases. Brookfield Property Partners LP and TPG Capital also have been acquiring such assets in the past two years.
IndCor would have been the fifth real estate IPO of a Blackstone-owned company since October 2013, when Brixmor Property Group Inc., the second-largest U.S. shopping center landlord, went public. Brixmor was followed by last November's IPO of Extended Stay America Inc., a lodging company part-owned by Blackstone. In December, Blackstone completed the largest-ever hotel IPO with Hilton Worldwide Holdings Inc., then took lodging operator La Quinta Holdings Inc. public in April.
Blackstone has been reducing its stakes in Brixmor, Hilton and Extended Stay through stock sales this year. Blackstone yesterday sold 90 million Hilton shares at $25 each, or a total of $2.25 billion. The sale reduced the firm's stake to about 57 percent from about 66 percent, excluding the exercise of options, according to a regulatory filing. Hilton closed at $25.25, up 26 percent from its IPO price.
Next Fund
Blackstone is stepping up real estate sales as it prepares to raise its next global property fund. The firm has said it plans to raise at least as much as its last fund, the $13.3 billion pool completed in 2012.
A private sale of IndCor would allow Blackstone to realize a profit sooner than an IPO. The firm similarly has been selling some assets from another major investment, Equity Office, purchased in 2007. IndCor would have been the largest U.S. REIT with purely industrial properties.
"Blackstone is agnostic in terms of how they execute their exit strategy," Eric Frankel, an analyst at Green Street Advisors Inc., said in a telephone interview in September. "Some platforms get a better valuation going public and some are better off selling to third parties."
Before it's here, it's on the Bloomberg Terminal.
LEARN MORE