The Final Push: GOP Has the Edge, But Will It Be Enough?
All signs point to Republican gains on Election Night, but it's still unclear whether they will be able to take over the Senate.
By and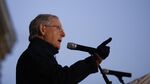 Facing a disaffected and anxious electorate, Republicans are poised to make gains in the midterm elections, though several races remain tight and it's uncertain whether GOP will capture enough seats to seize control of the Senate.