The Final Push: GOP Has the Edge, But Will It Be Enough?
All signs point to Republican gains on Election Night, but it's still unclear whether they will be able to take over the Senate.
By and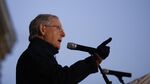 Facing a disaffected and anxious electorate, Republicans are poised to make gains in the midterm elections, though several races remain tight and it's uncertain whether GOP will capture enough seats to seize control of the Senate.
With less than two days to go before polling places open, Senate candidates across the country were making their last appeals, as thousands of party activists and volunteer canvassers worked overtime to turn out core supporters and persuade the few remaining undecided voters.  In the House, Republicans appeared likely to expand their already significant majority.  The Senate is the larger question, with Republicans hoping to pick up a net gain of six seats.  
The political climate favors Republicans, who capitalized on President Barack Obama's low approval ratings. In response, Democrats have tried to focus races on local issues, such as education in North Carolina and agriculture in Arkansas. Once the Democrats' most powerful voice, Obama has stayed out of states with competitive Senate races, and a rally in Bridgeport, Conn., Sunday, during which the president was interrupted by immigration reform protesters, showed why. 
"I am a Dreamer!" one young woman yelled about three minutes into Obama's speech.
After the crowd shouted the woman down with chants of "four more years" in support of Governor Dan Malloy, Obama responded to the woman as she was being ushered out, "Republicans are blocking immigration reform. That's one more reason why we need a Democratic Senate."  

Over the course of his 20-minute speech Obama was interrupted by at least a half dozen other young people who raised signs and shouted toward the stage. Held in a high school gymnasium, protesters had a better chance of being heard, and took full advantage of that fact. 
"Si se puede!" a young man shouted before being ejected. 
"I am sympathetic to those who are concerned about immigration, because the truth of the matter is that we're a country of immigrants," Obama responded. "That's why we fought for immigration reform. It's the other party that's blocked it. Unfortunately, folks get frustrated so they want to yell at everybody. And I understand that. But this is part of why elections are so important. Because we do have two different visions of America."
Obama on the Ballot
"The election will be a referendum on the president," said Republican Senator Rand Paul of Kentucky, a potential presidential candidate who has been a popular surrogate campaigner this fall, in an interview on Sunday with CNN. "He will be indirectly on the ballot."
Democrats hope to offset their expected losses by seizing Republican seats in Kansas and Georgia, deeply red states that turned unexpectedly competitive. Yet new polling released over the weekend showed Republicans leading in Georgia, Kentucky, Iowa, and Louisiana. 
But with time rapidly running out, neither side is totally confident, and it's quite possible that control of the Senate won't be determined on Election Day. "We are spending a lot of time preparing for runoffs and recounts," said Guy Cecil, the executive director of the Democratic Senatorial Campaign Committee.
Both sides have already reserved post-election television time in Louisiana, where Democratic incumbent Mary Landrieu and Republican Representative Bill Cassidy are expected to go to a runoff election on Dec. 6.  Party officials say the cost of that race alone could reach $70 million, pushing the price tag of the midterms even higher. Already, the midterm election is considered the most expensive in history, totaling at least $3.67 billion, according to the Center for Responsive Politics.
The parties also are bracing for recounts and a possible January runoff in Georgia. Further complicating the Senate calculations is Greg Orman, a Kansas independent who hasn't said which party he'd caucus with if elected.
Besides their unpopular president, Democrats face geographic and historical disadvantages. The overall map favors Republicans, with more competitive races in red states, giving their party more pathways to victory.  Democrats also have had a tougher time turning out their base in midterms. Recognizing their party's weaknesses, the Democratic Senatorial Campaign Committee invested $60 million in building infrastructure to better mobilize their voters–an effort that will be tested on Election Day.
"The math never favored Democrats, but the fact that we're still in it and have a very superior ground game–one we haven't see from Democrats in decades–is very encouraging," said Democratic strategist Jeremy Bird.
At least three states–South Dakota, Montana, and West Virginia–are poised to flip Republican. To win the Senate, Republicans must take three more seats from seven states: Iowa, North Carolina, Arkansas, Alaska, Colorado, New Hampshire and Louisiana.
"It certainly does seem to be a shift in the direction of Republicans," said John Engler, a former Republican governor who is now president of the Business Roundtable, a lobbying organization of top CEOs. "But, having been through a lot of elections personally, you never actually count the votes until they're cast."
Democrats remain optimistic this weekend about North Carolina, where Senator Kay Hagan has held a narrow lead in most polls. In New Hampshire, Senator Jeanne Shaheen appears likely to hold off a challenge from Republican Scott Brown, the former Massachusetts senator.
Strategists say Alaska remains a wild card, in part because the diffuse population makes polling difficult and getting final results notoriously slow. Over the past months, Democrats have built an extensive ground operation reaching deep into rural areas and tribal villages, in hopes of driving greater turnout.
Iowa, Arkansas, and Colorado appear to be favoring Republican candidates. A weekend poll by the Des Moines Register showed Republican Joni Ernst with a 7-percentage-point lead over Democrat Bruce Braley among likely voters.

Colorado's outcome will depend on whether Democratic Senator Mark Udall, running against Representative Cory Gardner, can drive unmarried female voters and Latinos in the Denver area to the polls.  In Arkansas, Democratic Senator Mark Pryor brought President Bill Clinton back to his home state on Sunday to boost his chances in a race against Representative Tom Cotton that seems to be slipping away. 
Senate Minority Leader Mitch McConnell is also expected to hold his seat in Kentucky, putting him in position to become majority leader if Republicans take the Senate. The race has been a focus for Democrats, with both Bill and Hillary Clinton making repeated visits to the state on behalf of Democrat Alison Lundergan Grimes, whose father is a longtime Clinton friend.
But Republicans have been surprised in Kansas and Georgia, where independent and Democratic candidates have been able to make unexpected gains. "At this point, it's all about getting the vote out," said Dubois Porter, chairman of the Georgia Democratic party.
In Atlanta, Rev. Raphael Warnock, senior pastor at Ebenezer Baptist Church, gave his final sermon before Election Day, urging his thousands of parishioners to head to the polls.  The congregation took dozens to the polls after Sunday morning services, taking advantage of the state's early voting period.
"We will be preaching the gospel of voting," Warnock said. "And we will lift it up not just as a civic responsibility but as a sacred obligation."
In Kansas, top Republicans including New Jersey Governor Chris Christie, former Kansas Senator Bob Dole, and former Pennsylvania Senator Rick Santorum have descended on the state in support of Senator Pat Roberts.  But Roberts lost one key endorser on Saturday when Kansas State football coach Bill Snyder asked his campaign to pull a television ad showing video of him backing the senator.
In a sign of how damaging the president has become for Democrats, Obama spent the final hours before Election Day campaigning for gubernatorial candidates in solidly blue states: Malloy in Connecticut and Democrat Tom Wolf in Pennsylvania.