Rand Paul Hits Republicans for Missing with African Americans
The Kentucky Senator continues to address a sensitive topic for the GOP.
By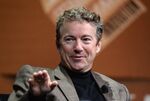 Rand Paul has a dream—that the Republican Party will someday learn how to connect with African American voters.  On Sunday, Paul reiterated his belief that the GOP has itself to blame for being viewed skeptically by many blacks.