John McCain Weighs In On Palin Family Brawl
The Arizona senator sees a pattern of media bias directed against his former running mate.
By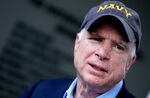 The more things change in relationship between the media and Sarah Palin, the more they stay the same. At least that's the view of Senator John McCain, the man who helped Palin take her place on the national political stage. Discussing the way the media pounced on the news that the Palin family was involved in Sept. 6 brawl at a private home in South Anchorage, McCain told Phoenix news affiliate KTVK that he said he saw a familiar pattern.