One Last Time, It's B-R-A-L-E-Y, Not Bailey
By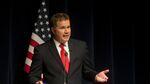 It happened again. Democrats keep calling Bruce Braley, Iowa's Democratic nominee for Senate, Bruce "Bailey."
Staci Appel, a House candidate in Iowa, was the latest to mess up the name of someone who has represented Iowa in Congress since 2007.
"We will send Bruce Bailey to Congress," Appel said during her appearance as a warm-up act for Braley and former President Bill Clinton at a rally Saturday in Des Moines.
She didn't correct herself and just kept plowing forward with her speech. She's in good company. First lady Michelle Obama made the error—repeatedly—during an appearance she made in Iowa for the candidate in early October.
Bill Clinton made the same mistake in September when he spoke at Senator Tom Harkin's Steak Fry. He got it right during his appearance Saturday.
Braley's opponent, Joni Ernst, and other Republicans have now folded the mispronunciations into their stump speeches for laugh lines. 
For his part, Braley has laughed off the goof ups. "My three kids, when they had their birth announcements published, one of them was listed as Barley, one was listed as Bradley," he told CNN earlier this week.