Hong Kong Police Arrest Foreign Man in Deaths of 2 Women
Cathy Chan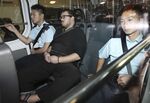 Hong Kong police arrested a 29-year-old man in connection with the deaths of two women. The man is a British national who worked for a "top-tier global bank," the South China Morning Post reported, citing an unidentified police source.
One of the women, who was found dead inside a suitcase at an apartment in the Wan Chai district, had injuries to her neck, Hong Kong police said in a statement yesterday. The other died from cut wounds shortly after police arrived at the scene, where the foreign man was arrested and a knife found on the premises was seized, police said.
The arrested man's name is Rurik Jutting, Apple Daily reported on its website today. Bank of America Merrill Lynch previously had an employee of that name, said Paul Scanlon, a bank spokesman. Police couldn't immediately respond to questions about the man's identity.
Police arriving at the scene found an unconscious foreign woman between the ages of 25 and 30 with cut wounds. Hours later they discovered the body of the second woman inside the suitcase, the South China Morning Post reported. The two women were believed to be sex workers of Southeast Asian or Asian ethnicity and were killed several days apart, the report said.
A spokesperson for the U.K. Foreign Office confirmed that a British national had been arrested in Hong Kong, but provided no other details, the British Broadcasting Corporation reported.
"We are in touch with the local police and stand ready to provide consular assistance," the spokesperson said, according to the BBC.
Before it's here, it's on the Bloomberg Terminal.
LEARN MORE