Herbalife to Pay $15 Million to End 'Pyramid Scheme' Suit
Joel Rosenblatt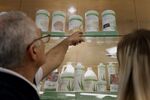 Herbalife Ltd. agreed to pay $15 million to settle a lawsuit by a former California distributor of its nutrition products who alleged the company's business model is a "pyramid scheme" that didn't allow him to make a profit.
The U.S. Federal Trade Commission is probing the Los Angeles-based maker of weight-loss shakes and nutritional supplements following accusations by billionaire hedge-fund manager Bill Ackman that the company misleads distributors, misrepresents sales figures and sells a commodity product at inflated prices. The Federal Bureau of Investigation also opened an investigation and several states are looking into complaints.
The agreement announced yesterday comes after the company last year lost a bid to dismiss the case in Los Angeles federal court. U.S. District Judge Beverly Reid O'Connell ruled the allegations against the company in the proposed class-action case were sufficient for the case to proceed.
"We are fully confident that we would have prevailed," Herbalife General Counsel Mark Friedman said in an e-mailed statement. "Settling this matter, however, is in the company's best interest as it allows us to put it behind us and focus on the future growth of the company."
Former distributor Dana Bostick sued in April 2013, claiming he couldn't sell his products because distributors who are higher up the chain receive a bigger discount than he did on the products they purchased from Herbalife. Bostick also claimed Herbalife's structure systematically rewards recruiting other distributors over retail sales.
RICO Violations
Bostick alleged violations of California's Endless Chain Scheme Law, as well as the state's laws against unfair competition and false advertising. He also accused the company of violating the U.S. Racketeer Influenced and Corrupt Organizations Act.
The $15 million settlement fund is for distributors who joined Herbalife "primarily to pursue a business opportunity and not primarily for personal and/or family consumption of Herbalife products," and who lost money on Herbalife products, according to a court filing.
Ackman has urged U.S. regulators, elected officials and community activists to help shut Herbalife down. The company has repeatedly denied Ackman's allegations.
A court hearing to consider approval of the settlement is scheduled for Dec. 1.
The case is Bostick v. Herbalife International of America Inc., 13-cv-02488, U.S. District Court, Central District of California (Los Angeles).
Before it's here, it's on the Bloomberg Terminal.
LEARN MORE