Door Knocking For a Candidate, a Test For a Party
One volunteer's ground-level view of the GOP's updated voter-turnout technology.
By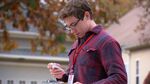 Two years ago, the Republican Party set Tim Griggs up to fail. A volunteer, he was assigned to make thousands of phone calls and knock on hundreds of doors in North Carolina for presidential hopeful Mitt Romney and the party's other candidates. The work itself wasn't the problem—Griggs seems to like that part quite a bit. It was the way he had to do it.