politics
Door Knocking For a Candidate, a Test For a Party
One volunteer's ground-level view of the GOP's updated voter-turnout technology.
By
Two years ago, the Republican Party set Tim Griggs up to fail. A volunteer, he was assigned to make thousands of phone calls and knock on hundreds of doors in North Carolina for presidential hopeful Mitt Romney and the party's other candidates. The work itself wasn't the problem—Griggs seems to like that part quite a bit. It was the way he had to do it.
Griggs and other Republicans blanketed neighborhoods, knocking on door after door in hopes of finding friendly voters. Democrats had a much more efficient strategy, targeting specific houses on specific streets–their information was simply more precise, and when President Barack Obama won a second term, the data used to get out the Democratic vote got much of the credit. 
This year, amid questions about whether Republicans can catch up and surpass the vaunted Democratic data dominance, things in Tim Griggs's world are markedly different, and for the better. When it comes to the nuts and bolts of canvassing for the Republican Party, there's finally an app for that. 
A steady stream of superstar party surrogates has hit North Carolina; millions of dollars in ads have been saturating every waking moment of each commercial break for months. Yet with Election Day just days away, it's people like Griggs, now 21 and taking a semester off of college to volunteer again, who may ultimately decide the state's deadlocked Senate race. As Romney took the stage with GOP candidate Thom Tillis on Wednesday in Raleigh, Griggs was 250 miles away, hiking through a neighborhood in the Asheville suburbs, clipboard and iPhone in hand, seeking Republican voters. 
The job is high in miles walked and doors slammed. The dogs throughout the neighborhood Griggs walked through seemed particularly suspicious. He once ran into a bear. ("He didn't chase after me or anything, but yeah, that was kind of a surprise.") Yet Griggs embodies what Democrats and Republicans acknowledge: Ultimately, especially in a midterm election, politics is all about getting your voters to the polls. The ability to identify those people and get volunteers like Griggs on their doorstep are central to each party's strategy–and why the tools they use are so important.
"People say they don't like the phone calls, that they don't like the door knocks, but it works," says Griggs, who himself is working 9 a.m. to 9 p.m., seven days a week. "The Democrats have proven that." 
North Carolina is a particularly important test for get-out-the-vote operations, and not only because of the race between incumbent Senator Kay Hagan and Tillis, the statehouse speaker.
Both parties have entrenched organizations in counties across the state. Outside groups have come in with their own operations. Americans for Prosperity, the conservative advocacy group backed by billionaires Charles and David Koch, has implemented a three-phase field operation over the course of months. First were surveys to identify potential voters. Then an education phase for undecideds the group thought they could persuade. Then came the organizations own get-out-the-vote push. AFP workers have knocked on more than 190,000 doors and made a million phone calls, according to Donald Bryson, the group's state director. On the other side of the ideological spectrum, Planned Parenthood Action Fund has a major presence. The AFL-CIO is on the ground with union volunteers.

Democrats, facing an increasingly unhappy national electorate and weighed down by their party's unpopular president, have made no secret that they see major investments in their ground operations as the key to retaining their Senate majority. "It is about getting out the vote and that's why I'm extremely proud of what we've done on executing the strategy of our voter turnout and it is very important," Hagan said in a recent interview on PBS "Newshour."
Party officials have said repeatedly they've got the track record to prove it's possible. The Democrats' 2012 efforts, which delivered to Obama a second term and increased their Senate majority, have all but been mythologized at this point.
On the other side sit Republicans, whose 2012 models underestimated the Democrats' ability to turn out their voters. By many accounts, the GOP relied on data that was unreliable at best and, in some parts of the country, downright debilitating. Griggs recalls that he and his fellow volunteers in the Asheville area operated almost entirely on a paper system. They took out a hard-copy book of addresses, filled in results by hand and punched them into a computer when they returned to party headquarters. "We actually had an app in 2012," says Griggs as he walks to his next house in the Biltmore Park neighborhood. "It just didn't work."
The 2012 losses prompted a major push by the Republican National Committee to bolster its digital operations. The party spent millions to upgrade and put in place infrastructure that it hopes will be used for years.
The idea–one pursued and implemented by Democrats in the wake of their 2004 election losses—is to become the centralized data hub for the party. Specifically, the RNC worked to develop a single platform to be tapped by candidates, state parties and outside groups. Tailored apps could be built on top of the platform, enabling the flow of data from the field to the national party and back. 
The process hasn't been seamless. Internal struggles among the committee, outside groups, and consultants have at times spilled into public view. Chuck DeFeo, the RNC's chief digital officer, acknowledged in an interview Monday with Bloomberg Television something that party officials have said from the beginning of the effort: that the work is an ongoing process, one that will continue to evolve in future election cycles. Still, DeFeo said, "what we deliver for our candidates this month is one of the best operations the Republican National Committee has been able to provide in a long time." 
No matter what, a pretty good barometer is right around the corner. "Ultimately our work is going to be judged by how we do at the polls," DeFeo said.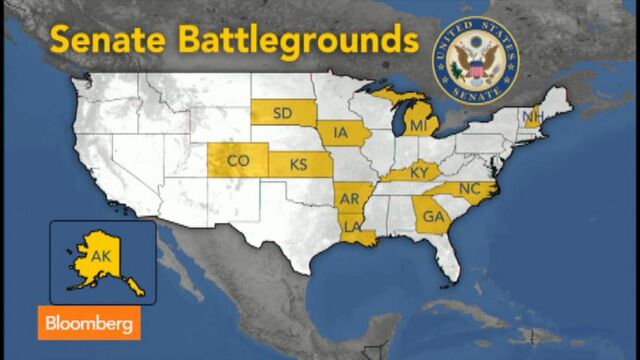 In Asheville, the broader data debate doesn't seem to interest anyone in the GOP's regional office. Situated in a strip mall, a few miles from the famed barbecue and macaroni and cheese served at 12 Bones Smokehouse (an Obama favorite), the office has about a dozen or so volunteers, ranging from teenage interns to a few retirees, working the phones. A half-dozen more are milling around prepping lawn signs or meeting with state representatives who swung by to pitch in. Asheville isn't exactly a Republican stronghold. Obama won Buncombe County by 12 points in 2012, Hagan by nearly 20 in 2008. But the surrounding suburbs and towns present opportunities, and in a Senate race now in a dead heat, those votes matter.
Dana Sutis, the 25-year-old regional field director, arrived to open the office in April, and immediately launched a push to target younger voters. At this point though, there's a singular focus: "We are targeting our supporters that we've identified as Republican voters," she said from her office, adorned by county maps and a photo montage of Ronald Reagan. "We're just trying to get them all out to the polls."

That's where Griggs comes in. As the sun starts to go down in Asheville, Griggs, wearing jeans, a flannel shirt and work boots, followed his app through the upscale housing area. It wasn't perfect–at one point he approached a house and asked for a voter who no longer lived there–but for the most part he was reaching Republican leaning voters. Some said they had voted early. Some were waiting for Election Day. All had information to share.  
The process is goes something like this: Griggs taps the name and address of an individual on his iPhone app. Up comes personal information and a series of options to fill in, starting with the voter response. Each option opens to another screen where more details can be filled in. A couple of swipes later, it's on to the next house. He rings the doorbell and as a man opens the door, he gets to work. 
"Hello, sir, how are you today? My name is Tim and I'm a volunteer with the Republican Party." 
His approach is friendly but direct (the app has scripts for his spiel). He's got information on candidates down the ballot (though Tillis is usually his go-to), details on polling places, early voting, and enough door-hangers to paper most of the city. Mostly, he just wants to make sure Republicans are voting. Sometimes that makes him the sounding board for complaints. 
As he walked away from each house, Griggs swiped at his iPhone, logging the early voters and giving fresh data on the state of the race. He also noted details on people who still haven't voted, ensuring that another volunteer would make another stop before Tuesday.
Toward the end of his night, Griggs rang a doorbell and came across an aberration: an undecided voter. 
"At this point it's kind of rare to see people undecided, but I guess it happens," Griggs said after he finished speaking to the man. He didn't go in for a hard sell. The resident was curt, and Griggs didn't want to push. He paused as he dutifully entered the information into his app–another volunteer will follow up–and moved on. His app pointed him to the next house.  
Before it's here, it's on the Bloomberg Terminal.
LEARN MORE