Virgin Galactic Ship Crashes With 1 Pilot Reported Dead
Thomas Black and Julie Johnsson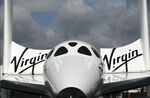 A spacecraft for Richard Branson's Virgin Galactic Ltd. crashed on a test flight in California, killing one pilot, injuring another and denting the U.K. billionaire's high-flying tourism dreams.
U.S. officials opened an inquiry into the second accident this week involving a private spaceship. This one involved a fatality, the co-pilot, while the pilot was hurt after ejecting. The survivor was seriously hurt and is "doing as well as can be expected," Virgin Galactic partner Scaled Composites LLC said.
Ground controllers lost contact with SpaceShipTwo just after 10 a.m. local time following its release from the WhiteKnightTwo jet that carried it aloft. Virgin Galactic said SpaceShipTwo experienced a "serious anomaly," while Associated Press cited a witness as saying the craft exploded. Television images showed chunks of wreckage on the Mojave Desert floor.
While the dawning of a second U.S. space age has generated a buzz because of the involvement of billionaires such as Branson, Elon Musk, Paul Allen and Jeff Bezos, the loss of a commercial craft designed to haul thrill-seeking tourists, not just cargo, underscored the perils of rocket-powered flight.
'Risky Business'
"There is a price to be paid for a whole new era of a very complex and risky business," said Marco Caceres, director of space studies for Fairfax, Virginia-based consultant Teal Group. "A lot of money is going to be lost and people are going to die. If you want to develop this industry any time soon, you have to take some risks, and that means flying a lot."
Branson thanked well-wishers via a Twitter message and said he was heading for California, where acting National Transportation Safety Board Chairman Chris Hart is bound as well. Hart said the NTSB will lead the probe into the accident.
"Space is hard, and today was a tough day," Virgin Galactic Chief Executive Officer George Whitesides told reporters at a televised briefing at Mojave Air & Space Port in Mojave, California, where the pairing of the WhiteKnightTwo and SpaceShipTwo took off.
Scaled Composites, the maker of both aircraft, didn't identify the pilots or elaborate on the condition of the one who lived through the crash. Beyond the sequence of events, neither Scaled Composites President Kevin Mickey nor Mojave Air & Space Port CEO Stu Witt shed much light on what occurred in the desert skies as SpaceShipTwo prepared for another flight trial.
Two Minutes
Two minutes after the craft cut loose from its mother ship, the ground crew minutes later "became aware of an in-flight anomaly," Witt told reporters. Witt said he didn't see an explosion and knew something was wrong when he "couldn't detect anything" for about 90 seconds.
"I knew when other things weren't happening," Witt said. "It was what I was not hearing and not seeing."
It was the fourth powered flight for the rocket engine, which was "thoroughly tested" on the ground and had been through a qualification series, Mickey said. The fuel mixture was new, he said.
"This was a new fuel formulation again that had been proven and tested on the ground many times," Mickey said.
This week's accidents are drawing attention to one of the drawbacks of slashing spending on the National Aeronautic and Space Administration and giving entities beholden to investors a greater role in orbital and suborbital flight, Teal Group's Caceres said. Companies aren't flying dozens of test flights before attempting missions, as NASA did during the 1960s and 1970s, Caceres said.
Two Tests
The Orbital Sciences Corp. rocket that blew up on a Virginia launchpad Oct. 28 had only flown two test flights before ferrying its first load of cargo to the International Space Station earlier this year.
"That's not nearly enough," Caceres said.
SpaceShipTwo was designed to make the first stage of its flight to the fringes of space while slung beneath the WhiteKnightTwo. Virgin uses the carrier plane to take the spacecraft to almost 50,000 feet (15,000 meters). From there, the rocket-powered craft is to climb to 360,000 feet, letting passengers experience weightlessness, dark skies and view the curvature of the Earth.
Scaled Composites is a unit of Northrop Grumman Corp. It bills the WhiteKnightTwo as the world's largest all-composite aircraft. The jet has a 140-foot wingspan that links together two narrow fuselages and is powered by four Pratt & Whitney engines.
2015 Flights?
Branson said last month that Virgin Galactic was targeting its first commercial flight in spring 2015, with the billionaire and his son to be aboard for the initial launch. That reflected a change from his initial timetable for operations this year. He said at the time that almost 800 would-be space tourists had signed up for $250,000 trips.
Virgin Galactic plans to operate commercial flights from Spaceport America in New Mexico, and sent the WhiteKnightTwo there last month for to help crews familiarize themselves with local airspace, practice landings and diversions, and simulate launches.
The program has suffered numerous setbacks, with three people working for Scaled Composites killed in an explosion in 2007.
Virgin Galactic -- backed by Abu Dhabi-based Aabar Investments PJS -- says it's still on track to become the world's first commercial spaceline, having accepted more than $80 million in deposits from a clientele that includes some of the world's highest net-worth individuals.
Before it's here, it's on the Bloomberg Terminal.
LEARN MORE