U.S. Stocks Gain in Week as Benchmark Indexes Hit Records
Oliver Renick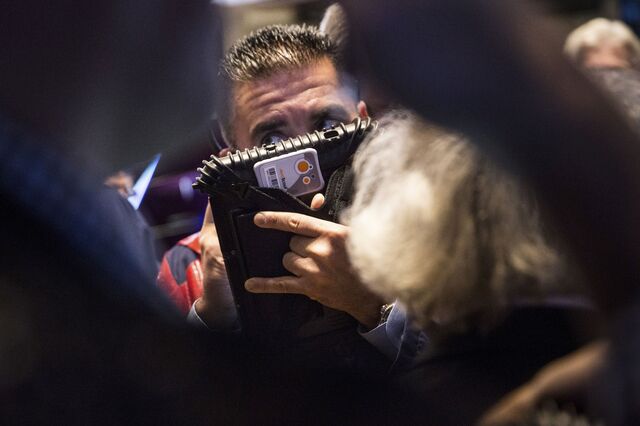 U.S. stocks rallied for the week, capping a monthly advance and returning benchmark indexes to records, as better-than-estimated earnings and economic data eased concern about the end of Federal Reserve bond buying.
The Standard & Poor's 500 Index and Dow Jones Industrial Average closed at all-time highs on the final session of the week as the Bank of Japan unexpectedly increased stimulus. The Stoxx Europe 600 Index climbed 2.9 percent to pare its worst monthly loss this year, while Japan's Topix soared 7.4 percent to lead Asian equities to a 3.1 percent gain in the week.
The S&P 500 has rallied 8.4 percent since sinking to a six-month low on Oct. 15. Optimism in the economy and better-than-estimated earnings fueled a rebound after the index had tumbled 7.4 percent from its September record on concerns that Europe will slip into a recession and that growth was slowing in China just as the Fed ends its monthly bond buying. The gauge has advanced 9.2 percent this year.
"The buy-the-dip philosophy came back stronger than ever as everybody said the correction is behind us and the opportunity to buy stocks on sale is now," Brian Peery, co-portfolio manager at Novato, California-based Hennessy Advisors Inc., said by phone. "The snap back happened really quickly, and at this point it's been earnings-driven. When QE disappears and there isn't even a blip on the radar in the downside, that's a confidence boost."
The S&P 500 rose 2.7 percent to 2,018.05 in the week, topping its Sept. 18 record on the final day. The index added 2.3 percent in October. The Dow average jumped 585.11 points, or 3.5 percent, to 17,390.52 for its best week since January 2013. The Russell 2000 Index surged 4.9 percent for a third weekly gain, while the Nasdaq Composite Index jumped to a 14-year high after a 3.3 percent rally.
Corporate Earnings
The S&P 500 posted its best gain of the week on Oct. 28, rising 1.2 percent, amid improving corporate profits. Adjusted earnings per share have grown 10 percent for the 363 companies in the S&P 500 that have reported third-quarter results so far, according to data compiled by Bloomberg. About 80 percent of them have topped the average analyst estimate.
Equities slipped the next day after the Fed announced the end of its bond buying program. The advance resumed on Oct. 30, after government data showed that U.S. gross domestic product increased at a 3.5 percent annual rate from July through September, topping the median forecast of 3 percent in a Bloomberg survey of economists.
Other reports during the week showed a gain in consumer confidence and better-than-estimated results in surveys of purchasing managers. Government data showed fewer Americans filed applications for unemployment benefits over the past month than at any time in more than 14 years, a sign the strengthening U.S. economy is buoying the labor market.
BOJ Stimulus
Stocks rallied around the world on the week's final day after Japan's Government Pension Investment Fund said it will put half its holdings in local and foreign stocks, double previous levels, and invest in alternative assets. The Bank of Japan raised its annual target for monetary expansion to 80 trillion yen ($724 billion) from as much as 70 trillion yen.
The Stoxx 600 closed at a four-week high after its best weekly gain this year. It fell 1.8 percent for the month amid concern the European Central Bank's asset purchases won't be enough to revive the region's economy.
Emerging-market equities capped the biggest weekly gain in seven months with a 3.2 percent rally. Brazil's Ibovespa surged 5.2 percent in the week as speculation an increase in global liquidity will fuel demand for riskier assets.
Volatility Lull
The Russell 2000 Index rallied 6.5 percent in October, for its best month since July 2013, while the Dow average gained 2 percent. The Nasdaq Composite Index jumped 3.1 percent in the month.
The Chicago Board Options Volatility Index tumbled 13 percent to 14.03 for a second week of losses. The gauge known as the VIX plunged 47 percent since Oct. 15 when it closed at the highest since June 2012.
All 10 of the main S&P 500 groups advanced in the week. Technology stocks rose 3.3 percent for the biggest advance. Materials producers gained the least as gold sank.
Amgen Inc. rallied 10 percent in the five days to a record. The biotechnology drug company will raise its dividend 30 percent in the first quarter 2015 and plans to buy back as much as $2 billion of stock through the end of next year.
Visa Inc. jumped 13 percent in the week to an all-time high. The world's largest payments network delivered profit that topped forecasts as spending abroad improved.
MasterCard Inc. rallied 13 percent The second-largest U.S. payments network's earnings also beat estimates.
EA, Goodyear
Electronic Arts Inc. climbed 13 percent to a six-year high. The producer of the Madden and FIFA video games posted second-quarter sales and profit that topped analysts' estimates on soaring mobile use of its sports titles.
Goodyear Tire & Rubber Co. rallied 16 percent for the biggest gain in the S&P 500. The tire maker reported earnings that topped analysts' estimates and said it would buy up to $150 million worth of stock.
Exxon Mobil Corp. and Chevron Corp. climbed more than 2 percent as refinery operations helped boost quarterly profits even as crude prices tumbled.
Nabors Industries Ltd. and Diamond Offshore Drilling Inc. dropped at least 3.5 percent to pace declines among energy producers. West Texas Intermediate oil sank 12 percent in October amid concern supply will outpace global demand.
Gold Slump
Materials producers in the index gained 0.2 percent in the week, trimming a monthly loss to 2.6 percent as precious metals led declines in the Bloomberg Commodities Index.
Newmont Mining Corp. dropped 15 percent in the week, while Freeport-McMoRan Inc. retreated 7.5 percent. Gold and silver slumped to the lowest since 2010, with gold capping its first consecutive monthly losses of the year.
"To a degree, we've seen a split-personality market over the past three weeks, with sentiment shifting from gloom and despair to euphoria," Terry Sandven, chief equity strategist at Minneapolis-based U.S. Bank Wealth Management, which oversees $120 billion, said by phone. "We still think the fundamental backdrop is supportive for equities to grind higher. In addition to earnings increasing, inflation seems to be restrained, valuations are high but not extreme and the list of compelling alternatives to equities is not long."
Before it's here, it's on the Bloomberg Terminal.
LEARN MORE