Toasting the Founder of the Single-Barrel Bourbon Boom
by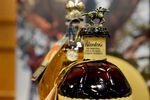 The oldest name in American single-barrel bourbon, Blanton's, turned 30 this summer—and it's ready for some props from industry peers. The bourbon, which is sold in a round bottle with a metallic horse atop the stopper, was first bottled on Aug. 30, 1984. It was the first bourbon on the market to come entirely from a single barrel.
Blanton's, named after a former master distiller at the company, Colonel Albert Blanton, hit the market at a time when the liquor was down on its luck, suffering a retail crisis as Americans were discovering a taste for higher-quality wines and vodkas. "It's what old people drank," John Shutt, Blanton's international sales and marketing executive, says of the stereotypes that dogged bourbon in the 1980s. "It's what poor people drank. It's what we in Kentucky—us rednecks—drank."
Another problem for the spirit during the 1970s and '80s was that most bourbon wasn't terribly tasty. It was generally made with an eye toward controlling costs and never commanded a premium—"artisanal" was years away from becoming a word Americans attached to their food and drink. Elmer T. Lee, then the master distiller, decided that the distillery's top-notch bourbon should go to market as a premium brand. The distillery bottled 50 cases and decided to charge $25 per bottle—triple the industry's average price at the time.
"I think all the companies owe Elmer and Colonel Blanton a debt of gratitude," Harlen Wheatley, Buffalo Trace's master distiller, said Thursday night at a tasting party in downtown Manhattan to celebrate the brand's 30th anniversary. "It's kind of a big deal for whole industry." (Buffalo Trace also bottles an Elmer T. Lee single-barrel bourbon in honor of Lee, who died last year at 93.)
Bottling a bourbon from a single cask was an audacious, expensive step in an industry where blending whiskey from multiple barrels, years, and warehouses was the standard. "Every time they went to another distillery they heard the same thing," Shutt said. "'You guys are crazy. You can't make money doing it that way.'"
Initially, they were right. Blanton's was a commercial flop, leading Lee to fear he'd be fired. But as other distillers gradually began seeing the financial potential in moving upmarket, better bourbons began making their way to whiskey drinkers in Japan, England, and France and finding an audience. Americans lagged for years, until the TV show Mad Men and the craft food movement sparked bourbon's current boom. Today, the biggest problem for the major players in bourbon—Buffalo Trace, Heaven Hill, Jim Beam, and Willett—tends to arise from irritation over short supply for many brands.
Blanton's, which sells for $50 to $70, depending on location, is still largely a handmade item: The paper labels are written and affixed by hand, as is the elaborate horse-cork. It has always been 93 proof, aged at least six years, sometimes more, and is always from the central part of Buffalo Trace's Warehouse H, the only barrel warehouse on the company's Frankfort campus that's clad in metal. That makes the building warmer during the day and cooler at night, increasing expansion of the barrels. The company also bottles two higher-proof versions of Blanton's that are sold outside the U.S.
Before it's here, it's on the Bloomberg Terminal.
LEARN MORE