Samsung Electronics Jumps Most Since 2008 on Revamp Bets
Sharon Cho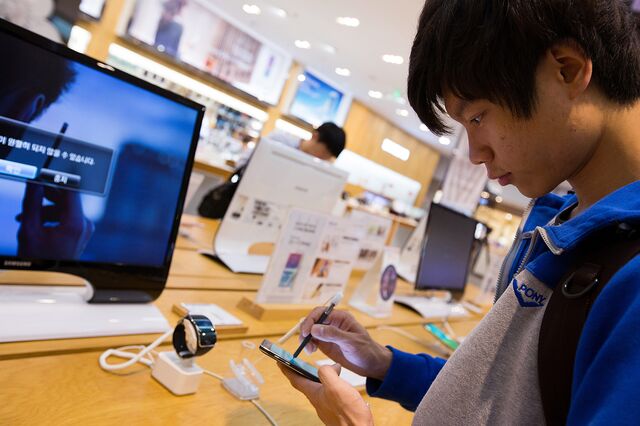 Samsung Group companies surged, led by the biggest three-day rally in Samsung Electronics Co. in six years, amid growing speculation of a shareholder-friendly restructuring at South Korea's biggest conglomerate.
Samsung Electronics, the world's biggest smartphone maker, jumped 5.3 percent to 1,244,000 won at the close in Seoul, extending its three-day gain to 14 percent after saying yesterday it would detail a shareholder return policy during its fourth-quarter earnings release. Samsung Securities Co. climbed to an eight-week high on plans to buy back shares, while Samsung Life Insurance Co. closed at a record level.
Anticipation for a restructuring of the family-run group, whose revenues amount to about a quarter of Korea's gross domestic product, escalated after the hospitalization of 72-year-old patriarch Lee Kun Hee in May put a spotlight on the firm's succession plans. Cheil Industries Inc., the de facto holding company of Samsung Group, and Samsung SDS Co., seen as key to funding a restructuring, are in the process of completing initial public offerings in Seoul.
"Market expectations continue to rise for imminent group reorganization," said Edward Kim, managing director and head of Korea equity sales at Bank of America Corp. in Seoul.
Cheil sits atop Samsung Group through direct and indirect stakes in key affiliates including Samsung Electronics, the maker of Galaxy smartphones, and Samsung Life. Cheil is also central to the group's succession planning because Lee's only son, 46-year-old Lee Jae Yong, was the biggest shareholder as of June with a 25 percent stake.
Korea's Richest
The Financial Services Commission approved Lee Jae Yong's plan to buy less than 0.1 percent stakes in both Samsung Life and Samsung Fire & Marine Insurance Co., according to an e-mailed document today.
Lee Kun Hee is South Korea's richest person with a net worth of $12.2 billion, while his son has a net worth of $4.2 billion, according to the Bloomberg Billionaires Index. A spokeswoman for Samsung Electronics declined to comment in an e-mail today.
The three-day rally trimmed Samsung Electronics' decline this year to 9.3 percent, compared with a 2.3 percent drop by the benchmark Kospi index. The stock fell this month to the lowest level since February 2012 as the company lost market share to Apple Inc.'s new iPhones and cheaper Chinese devices.
Samsung Electronics yesterday reported net income, excluding minority interests, decreased 49 percent to 4.14 trillion won ($4 billion) in the three months ended September, the smallest profit since the fourth quarter of 2011.
Share Sale
The company's earnings are "bottoming out," Greg Roh, an analyst at HMC Investment Securities Co., said by phone from Seoul. Samsung Group companies are also rising on "Samsung SDS's IPO and Samsung heir apparent Lee Jae Yong getting the right to buy Samsung Life's stake," he said.
Samsung SDS, which provides technology services to construction and manufacturing companies, will start taking orders Nov. 5 for an IPO that could raise 1.16 trillion won ($1.1 billion), an Oct. 22 regulatory filing shows.
Cheil may raise about $1.5 billion, people with knowledge of the matter told Bloomberg News, making it the country's biggest in more than four years. The price range of the IPO is 45,000 won to 53,000 won per share, the company's shareholder Samsung Card Co. said in a regulatory filing today.
Political pressure is mounting on Samsung Group to unwind a web of cross-shareholdings that allow the family to maintain control of about 70 companies with less than a 2 percent total stake. President Park Geun Hye's government has banned the creation of new cross-shareholdings and offered tax breaks for restructuring in a bid to improve corporate governance and make the family-run chaebol business groups more transparent.
Before it's here, it's on the Bloomberg Terminal.
LEARN MORE