Hello Kitty, a Victim of Disney's Frozen Juggernaut
By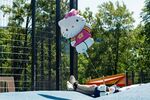 Middle age is proving to be a little awkward for Hello Kitty. The Japanese cartoon character, an icon of cuteness, is celebrating her 40th birthday with events around the world. Over the decades she has helped owner Sanrio become a global success story, with the Tokyo-based company licensing the image of Kitty-chan's expressionless face to makers of clothing, toys, and other consumer products. All told, there are now some 50,000 Hello Kitty products worldwide.
Lately, though, Sanrio's cash kitten has proven no match for Princess Anna and Olaf the Snowman. The popularity of the Walt Disney animated movie Frozen has hit Sanrio, especially in the U.S., where children who once might have asked their parents for Hello Kitty merchandise are instead favoring products with the Disney characters. The Frozen effect is one reason Sanrio's stock price is down 28 percent this year, compared with a 2 percent increase for the benchmark Topix index.
The stock may have a lot more room to fall. After the end of trading today on the Tokyo stock exchange, Sanrio announced its operating profit for the six months ended in September was 8.5 billion yen ($76.4 million), down 13.2 percent from the same period a year earlier and lower than the forecast of 9.1 billion yen. Sales were also disappointing: 35.5 billion yen, compared with a forecast of 36.4 billion yen. Sanrio now expects full-year operating profit of 19.3 billion yen, lower than the 22 billion yen it had previously forecast. The company also lowered its forecast for net earnings to 13.2 billion yen, down from 14.4 billion yen it had been expecting.
The back-to-school season in the U.S., the first since the debut of Frozen, contributed to the disappointing results. It was hard to recover from the lost sales of Hello Kitty backpacks, pencil cases, and lunch bags. Disney's hit movie "likely weighed on sales of Hello Kitty and other of Sanrio's character merchandise," Credit Suisse analyst Masashi Mori wrote in a report published on Oct. 29.
Hello Kitty may have difficulty keeping up with the Disney characters, but she was the star attraction on Oct. 30 in Hollywood, where Hello Kitty Con opened at the Geffen Contemporary at MOCA (Museum of Contemporary Art) in the Little Tokyo section of Los Angeles. The show, which will continue until Sunday, is the "first ever official Hello Kitty Convention in the world," according to Sanrio. As part of the festivities, Sanrio teamed up with MakerBot, a subsidiary of 3D printer maker Stratasys, to offer 3D-printable Hello Kitty collectibles.
And even if the U.S. market is a challenge, Sanrio continues to find more opportunities to expand in Asia. Consider the new Hello Kitty Rooms at the Keio Plaza Hotel Tokyo and Keio Plaza Hotel Tama. The rooms will feature Kitty-chan's face on the walls, furniture, and amenities, providing to guests "lodging in a dream world," the hotel announced last month. The decor includes images of the feline going shopping and attending an amusement park.
Sanrio also sees room for growth in China. China Mobile Games and Entertainment Group, the country's largest publisher of mobile games, announced on Oct. 22 a deal with Sanrio to develop games based on a dozen of the Japanese company's characters, including Hello Kitty. The characters "are always attractive to Chinese users," CMGE Chief Executive Xiao Jian said in a statement.
While the territorial dispute over islands in the East China Sea has kept relations between Japan and China frosty, consumers in the mainland as well as Hong Kong and Taiwan seem willing to forgive the most famous Japanese cartoon character. Throughout Greater China "the popularity of Kitty-chan is at a high level," says Tomoaki Kawasaki, an analyst in Tokyo with Iwai Cosmo Securities.
That popularity may not be enough to help Sanrio turn things around quickly. According to the company, Hello Kitty herself always says, "You can never have too many friends." Sanrio now needs all of those friends to come through for its star character.