Cubs Hire Maddon as Manager, Hours After Firing Renteria
Eben Novy-Williams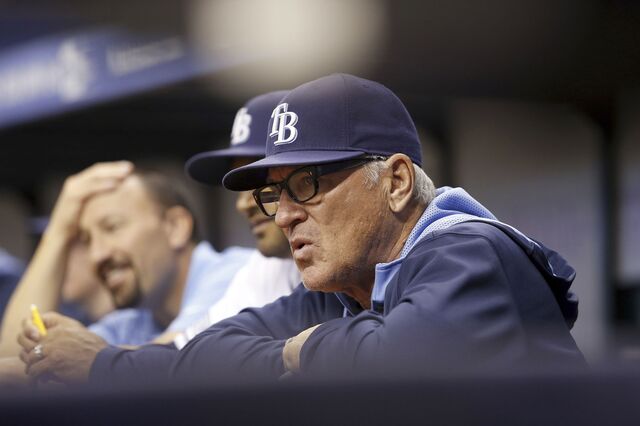 The Chicago Cubs hired Joe Maddon hours after firing Rick Renteria as manager of the Major League Baseball club that hasn't won the World Series since 1908.
Maddon will be introduced as the 54th manager of the Cubs at a news conference at 2 p.m. local time on Nov. 3, the team said in an e-mail yesterday.
Maddon, 60, opted out of his contract with the Tampa Bay Rays on Oct. 24. He was 754-705 in nine seasons in Tampa, leading the franchise to its only four postseason appearances. The Rays lost the 2008 World Series to the Philadelphia Phillies.
Renteria, 52, was 73-89 in his one season managing the Cubs, finishing last in the National League Central division. Team President Theo Epstein said he intended to invite Renteria back next season, and told Renteria as much two weeks ago, until Maddon left the Rays.
"We saw it as a unique opportunity and faced a clear dilemma: be loyal to Rick or be loyal to the organization," Epstein said yesterday in an e-mailed release announcing Renteria's departure. "In this business of trying to win a world championship for the first time in 107 years, the organization has priority over any one individual. We decided to pursue Joe."
Fourth Manager
Maddon is the fourth Cubs manager since Lou Piniella left in 2010 after a four-year stint. Mike Quade went 95-104 in 2010-11 before being replaced by Dale Sveum in November 2011 when Epstein took over as president of baseball operations. Sveum was fired Sept. 30, 2013, after the Cubs finished last in their division to miss the playoffs for the fifth straight year.
The Cubs haven't had a winning season since going 83-78 in 2009, and haven't reached the postseason since suffering back-to-back sweeps in the National League Division Series in 2007 and 2008.
Renteria was offered other roles within the franchise, Epstein said.
"He is of course free to leave the organization and pursue opportunities elsewhere," Epstein said. "Armed with the experience of a successful season and all the qualities that made him our choice a year ago, Rick will no doubt make an excellent major league manager when given his next chance."
Before it's here, it's on the Bloomberg Terminal.
LEARN MORE