BOJ Joins Pension as Abenomics Ignites Global Stock Rally
Anna Kitanaka, Shigeki Nozawa and Yoshiaki Nohara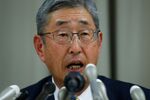 Japan's central bank and its $1.1 trillion pension fund stormed back onto the global stage, reasserting themselves as allies to investors and Prime Minister Shinzo Abe as he renews efforts to bolster growth.
Bank of Japan Governor Haruhiko Kuroda yesterday expanded what was already unprecedented monetary stimulus, delving deeper into financial markets to boost purchases of assets from government debt to real-estate investment trusts. Hours later, the Government Pension Investment Fund, helmed by Takahiro Mitani, said it would put half its holdings in local and foreign stocks, double previous levels. The Topix index soared the most in a year, leading a rally in equities around the world, as the yen plunged to the weakest since January 2008.
The pension fund and the central bank are critical elements in Abe's arsenal as he seeks to end the deflationary spiral that crippled the world's third-largest economy for much of the past two decades. Revamping GPIF is a key growth strategy for Abe, who said in parliament Oct. 2 that the overhaul will benefit Japan's economy. Kuroda's salvo came 19 months after he unleashed his initial asset-purchase plan and comes as the U.S. Federal Reserve winds down bond-buying.
"If part of what the BOJ is trying to do is to weaken the currency, announcing an expansion of QE immediately after the Fed has announced the end of its QE is quite a smart move," Jonathan Allum, a strategist at SMBC Capital Markets Ltd., said by phone from London. "The timing of all this is very clever."
Announcement Timing
Japan's Nikkei-225 Stock Average surged 4.8 percent yesterday. The Standard & Poor's 500 Index climbed 1.2 percent to 2,018.05 as of 4:11 p.m. in New York, a closing record.
Both announcements came before a long weekend in Tokyo. Abe is awaiting data on third-quarter economic expansion before deciding whether to proceed with an additional increase in the nation's sales tax.
The pension fund and central bank implicitly or explicitly agreed to coordinate their measures so as not to damage the domestic bond market, said Takatoshi Ito, a government adviser who led a government pension panel last year.
"Everybody involved was on the same wavelength," Ito said in a phone interview with Bloomberg News from Bangkok. "I think it is quite a coordinated action, whether consciously or unconsciously. It was beautifully timed."
It was a coincidence that GPIF's changes and the BOJ's easing both came on the same day, Mitani told reporters.
The BOJ yesterday halved its forecast for growth this fiscal year. The central bank reduced its estimate for core inflation to 1.7 percent for the year through March 2016, from 1.9 percent previously.
Decline Erased
The Topix slid 1.8 percent this year through Oct. 30, before erasing that loss yesterday, as investors weighed the progress of Abe's growth policies after the economy was dented by the April boost to the consumption levy. The equity gauge jumped 51 percent in 2013.
"Investors, especially ones outside Japan, are using stocks as a measure to gauge the seriousness of Abenomics," said Koichi Kurose, Tokyo-based chief market strategist at Resona Bank Ltd., before the announcements. "The understanding is that stocks rising equals legitimate growth strategies."
GPIF set allocation targets of 25 percent each for Japanese and overseas equities, up from 12 percent each, it said at a briefing in Tokyo. The pension fund will reduce domestic bonds to 35 percent of assets from 60 percent.
The new figures don't include an allocation to short-term assets, while the previous targets did. Analysts surveyed by Bloomberg last month had anticipated levels of 24 percent for local stocks, 15 percent for global shares and 40 percent for Japanese bonds, taking short-term holdings into account.
Consumer Prices
The pension fund's previous strategy was designed assuming that deflation would continue, while the new weightings are based on the expectation that consumer prices will rise, GPIF President Mitani told reporters.
Responsibility for achieving that lies with Mitani's counterpart at the BOJ, Kuroda, who yesterday led a divided board to expand stimulus. The central bank raised its annual target for enlarging the monetary base to 80 trillion yen ($716 billion), up from 60 trillion to 70 trillion yen.
Japan policy makers also said they would triple annual purchases of exchange-traded funds and Japanese real-estate investment trusts to 3 trillion yen and 90 billion yen respectively. The Fed said Oct. 29 it will end its asset-purchase program amid signs the economy is strengthening.
"By moving after the Fed ended tapering, the BOJ can make the most of its monetary expansion by weakening the yen," said Takahiro Sekido, a Japan strategist at Bank of Tokyo-Mitsubishi UFJ Ltd. "There had been growing doubts over Abenomics, but it will come back to life again. Abenomics started with the BOJ and it will restart with the BOJ."
Stock Prices
Abe has rebuffed suggestions by political opponents that the GPIF overhaul is part of a strategy to boost stock prices, saying it's for the benefit of pension savers and retirees. His Liberal Democratic Party also is working on rewriting the law that determines the fund's governance structure.
The premier in September installed Yasuhisa Shiozaki, an outspoken advocate of revamping public pensions, as health minister overseeing GPIF. The fund has already started investing in the JPX-Nikkei Index 400, a stock measure focused on return on equity that started trading with support from the LDP this year. The BOJ will make ETFs that track the gauge eligible for purchases, it said yesterday.
Abe has good reason to look for growth drivers. Japan's economy contracted the most in more than five years in the June quarter as the April sales-tax increase curbed capital investment and household spending. The premier, who has said he may raise the levy again to help rein in the world's heaviest sovereign debt burden, will decide whether to proceed with that plan by year-end.
"The BOJ is supposed to be independent, but there's no doubt that Mr. Kuroda would like the sales tax to go through as an ex-Ministry of Finance man," said SMBC's Allum. "I suspect this is part of a process of making it easier to agree to the sales tax going through."
Before it's here, it's on the Bloomberg Terminal.
LEARN MORE