Yes, Announcing You'll Teach Teens to 'Graffiti Up the Walls' Can Get You Fired
By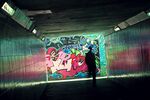 In a decision released Tuesday (pdf), the National Labor Relations Board sided with management at a San Francisco after-school program for high schoolers, finding it didn't break the law by letting go two staffers who'd taken to Facebook to air their frustrations with the job. Their lengthy and colorful thread, written one August evening in 2012, included such lines as "Let them do the numbers, and we'll take advantage, play music loud, get artists to come in and teach the kids how to graffiti up the walls and make it look cool, get some good food," and "F— em. field trips all the time to wherever the f— we want!"
In recent years, the NLRB has established that the same New Deal law that protects worker strikes or picket lines can also protect their tweets or Facebook posts. When a Buffalo nonprofit terminated five employees because of a Facebook thread complaining their hard work wasn't getting appreciated, the NLRB ordered that they be offered their jobs back (pdf). When a sports bar fired an employee who wrote on Facebook that the owner was "an asshole," and another who clicked "Like" on a status update complaining about accounting errors, the NLRB sided with those workers, too (pdf). In each case, the agency found that because the Facebook conversations involved multiple employees airing grievances about their work, the participants were legally protected from being punished. But as this week's ruling shows, the Labor Board's willingness to defend Facebook threads has a limit.
After the two lost their jobs, the NLRB's general counsel brought a complaint against the company, accusing it of illegally cracking down on legally protected activity. The general counsel argued that in context (neither of the two had actually been insubordinate before), their off-the-job banter about teaching the teens how to make graffiti or taking rogue field trips shouldn't be taken as serious threats. But the NLRB members disagreed, citing pre-Facebook precedents that have established that insubordinate talk can get you fired. The company, they wrote, "was not obliged to wait for the employees to follow through on the misconduct they advocated."
In other words, complaining with co-workers or coordinating a protest online is one thing, but urging insubordination is another. And on the Internet, no one's ever really sure if you're joking or not.
Before it's here, it's on the Bloomberg Terminal.
LEARN MORE