Visa-MasterCard Fuel S&P 500 Earnings in Improving Econom
Cécile Daurat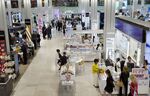 Earnings reports today provided further evidence that the U.S. economy is improving amid rising consumer confidence.
MasterCard Inc., Cigna Corp., ConocoPhillips, Kellogg Co. and cigarette maker Altria Group Inc. all posted higher-than-estimated profit for the third quarter. The results boosted the pace at which Standard & Poor's 500 Index earnings topped analysts' predictions to 81 percent, with about 165 companies yet to report.
The world's largest economy grew at a 3.5 percent annualized rate in the quarter, more than anticipated, Commerce Department figures showed today. Consumer spending, which accounts for almost 70 percent of the economy and has so far been restrained, may strengthen, with sentiment jumping to a seven-year high this month ahead of the holiday shopping season.
Amid corporations that exceeded profit estimates was Automatic Data Processing Inc., the payroll-and-benefits provider whose monthly jobs report is an economic barometer. New business bookings rose 11 percent last quarter and retention rates increased, ADP, which pays about one in six workers in the U.S., reported yesterday.
"Our client base has been hiring at an accelerating pace," ADP Chief Financial Officer Jan Siegmund said in an interview. "ADP's results are reflective of a good economic environment."
LinkedIn, Starbucks
Results after the markets close were mixed. GoPro Inc. and Western Union Co. topped projections, while LinkedIn Corp. gave a disappointing outlook and Starbucks Corp. missed on sales. LinkedIn's fourth-quarter profit forecast trailed estimates, after the third quarter came in higher than anticipated. Although Starbucks's earnings matched estimates, its revenue fell short as increased competition for breakfast diners' dollars hurt sales.
Visa Inc. yesterday posted higher-than-anticipated profit as consumer card spending increased. The world's largest payments network plans to charge some U.S. banks higher card-processing fees. MasterCard, the No. 2, has also increased prices for some services and signed new credit-card deals with retailers.
Cigna followed Aetna Inc., the U.S.'s third-largest health insurer, in raising its profit forecast for the year. Health insurers are gaining customers from the Patient Protection and Affordable Care Act, which helped 7.3 million Americans enroll in plans as of mid-August.
Oil Profits
Two major oil companies -- ConocoPhillips and Europe's Royal Dutch Shell Plc -- reported rising profits in the face of falling oil prices. ConocoPhillips, based in Houston, was bolstered by higher output in Texas and North Dakota. Exxon Mobil Corp. and Chevron Corp. are scheduled to report tomorrow.
Altria, the largest seller of tobacco in the U.S., has boosted cigarette prices to help cope with shrinking demand. Philip Morris International Inc., which reported earnings two weeks ago, also benefited from price increases.
Time Warner Cable Inc. is among the 20 percent of S&P 500 companies that have fallen short so far in the earnings season. The New York-based cable company, which is awaiting regulatory approval to merge with Comcast Corp., today lowered its revenue forecast for the year after more video subscribers canceled service and programming costs increased.
Time Warner Cable joined retailers and consumer companies in posting disappointing earnings or outlook. They included Wal-Mart Stores Inc., Mattel Inc., Urban Outfitters Inc. and Netflix Inc. earlier this month, a sign that consumers remained guarded. Improving sentiment may help in the current quarter.
While Europe is still struggling with high unemployment, low consumer confidence and weak demand, some indicators are pointing to more positive news. ADP, the Roseland, New Jersey-based payroll company, saw a gradual improvement in employment at its European clients, CFO Siegmund said.
Companies reporting tomorrow include AbbVie Inc. and Legg Mason Inc.
Before it's here, it's on the Bloomberg Terminal.
LEARN MORE