Uber Wins Initial Ruling Against Nevada Bid to Block It
Edvard Pettersson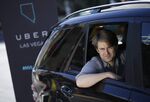 Uber Technologies Inc. defeated a bid by Nevada regulators to immediately block its ride-sharing service while the state fights to permanently halt its operations.
Uber started operating in Las Vegas and Reno on Oct. 24, according to the state's request to block its business filed the same day. Uber's drivers don't meet requirements for employees of certified carriers, which include random drug testing, fingerprint-based background checks and restrictions on the number of hours they can work, the state contends.
The San Francisco-based company, which competes with Lyft Inc. and other apps, is moving into transportation markets that have been dominated by taxis and limousine drivers. Uber, which operates in 220 cities in 45 countries worldwide, has faced protests when it rolls out its service in new locales.
State court Judge Douglas Herndon in Las Vegas yesterday denied the state's request for a temporary restraining order and set a hearing to consider a preliminary injunction for Nov. 14, Jennifer Lopez, a spokeswoman for Nevada Attorney General Catherine Masto, said in an e-mail.
The decision wasn't immediately available from court records.
"Today was a victory for the tens of thousands of Nevadans who have already stood up and demanded access to reliable, safe transportation options in their own community," Eva Behrend, an Uber spokeswoman, said yesterday in an e-mailed statement.
The case is Nevada v. Uber Technologies Inc., A-14-709002-C, Clark County District Court (Las Vegas).
Before it's here, it's on the Bloomberg Terminal.
LEARN MORE