Tim Cook's March on Washington
Speaking to the first openly gay U.S. senator on the power of the Apple CEO's decision in the nation's capital.
By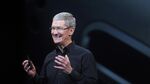 In September, 1963, two African-American teenagers enrolled in the 12th grade at Murphy High School in Mobile, Ala. Governor George C. Wallace would not let them in. On September 6, Wallace sent 150 state troopers to the city, "without," The New York Times reported, "announcing their purpose." President John F. Kennedy had to appeal to Wallace directly to cease interference—and threaten his own, if the governor would not respect federal law and desegregate the schools. On September 10, the two young students made their way up the steps to class, holding schoolbooks, passing cameramen.