The Increasingly Colorful War for the Black Vote
The air war for black voters is growing more intense.
By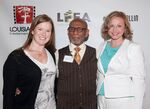 Last week, from Louisiana, I profiled Republican State Sen. Elbert Guillory and his single-minded quest to convince as many black voters as possible to bolt the Democratic party. After two of his straight-to-camera epistles on the subject went viral, Guillory claimed to have the capital to buy ads across the state, 60 seconds worth of reasons to ditch Sen. Mary Landrieu.