SNB Won't Cut Balance Sheet on Franc Risks, Danthine Tells Temps
Catherine Bosley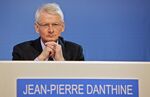 The Swiss National Bank has no immediate plans to reduce the size of its balance sheet because that would renew pressure on the franc, Vice President Jean-Pierre Danthine said.
"We can see reducing our balance sheet once macroeconomic circumstances and the requirements of monetary policy allow us to sell foreign currencies and buy back francs," Danthine said in an interview with newspaper Le Temps, published today. "But I repeat that such a scenario isn't imminent."
The SNB's foreign-currency holdings expanded over the past three years because after currency interventions to defend the minimum exchange rate of 1.20 per euro it set to ward off deflation and a recession. The reserves stood at 462 billion francs ($483 billion) in October -- equivalent to more than three quarters of the economy's annual output.
As of June, roughly half the foreign currencies were euros and just over a quarter dollars, with the central bank also holding yen, sterling, Canadian dollars and other currencies. The majority were held in highly rated government bonds, with 16 percent in stocks.
"The size of our balance sheet means that our ability to diversify faces restrictions," Danthine said. "Certain markets are simply too small for us."
To avoid a conflict of interest, the SNB has excluded medium and large banks from its portfolio, and also some companies on ethical grounds.
"We're as diversified as we can be, given the various constraints, and we're always looking at opportunities to be more so in the future," he said.
Gold Vote
The Swiss will hold a national vote on Nov. 30 on an initiative that would require the SNB to hold at least 20 percent of assets in gold, block the sale of any such assets, and force the SNB to repatriate the portion of its holdings in the U.K. and Canada.
The government, parliament and the central bank oppose the proposal on the grounds it would impede policy making.
"When necessary, we must be able to take monetary policy measures that increase our balance sheet," Danthine said. With the requirement of a 20 percent minimum, "certain measures simply wouldn't be possible or credible," he said. "For example the setting of the minimum exchange rate of the franc against the euro."
Before it's here, it's on the Bloomberg Terminal.
LEARN MORE