One Mapping Service to Rule Them All
MapStory can give users the tools to map the growth of every municipality in the world.
By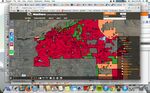 A map that shows the growth of New York City from 1626 to the present day tells a lot of stories about American history. How the Dutch colony of Nieuw Amsterdam became the English colony of New York, only to be recaptured and renamed Nieuw-Orange. How the great manors of New York were incorporated into cities. And how the cities of New York and Brooklyn (formerly Breucklyn) grew by annexation until they were consolidated as with Long Island, Queens, and Staten Island.
The graphic simplicity of MapStory's geographic history of New York City belies an incredible challenge. Collating city records that span centuries, colonies, wars, and states is no mean feat, but MapStory makes it look easy.
In fact, the purpose of MapStory is to make this work easier. Mapping out the growth of New York City over time—indeed, the growth of every municipality in New York State—is just a means to one end. MapStory aims to give users the means to map the development of every municipality on the planet.
That audacity earned MapStory an OpenGov grant from the Sunlight Foundation. "Our initial motivation was to support urban historians and genealogists who need to know this information but who currently spend inordinate amounts of time searching historic maps and city records for it," wrote MapStory's John Vincent and Karl R. Phillips on a post on Sunlight's blog. "In the digital age, citizens should be able to ask and immediately answer this simple question: How has the geography of my city/town/borough/village changed throughout its history?"
MapStory caught my eye earlier this week when someone passed along a MapStory map charting the growth of Portland over time. That means that users are taking MapStory beyond its initial goals of mapping the states of New York and also California, where they've collected data for a whole mess of that state's cities.
Browsing the MapStories that are up and available yields some real finds. User Betsy Emmons, an environmental science student at Gettysburg College (and a MapStory intern), appears to be the author of an awesome map of Portland's network of bike lanes.
And another bike-lane map for San Francisco, using San Francisco Municipal Transportation Agency data.
Does MapStory make things too easy? The geocoordinates for this map of D.C. murals look off to me, though the effort is impressive: I'd expect someone to need to hand-code this map. And a global map of rocket test-launch sites around the world that draws on Wikipedia needs a better data source.
But a map of changes in land use in Mesa, Arizona, over time—built using GIS data provided by Arizona State University—demonstrates how useful this could be to future historians and urban geographers.
The same goes for a map showing the spread of U.S. national parks over time, which was built by the same Arizona State University graduate student.
Mapping the entire world may be a ways off. But recent developments—such as the 2013 ruling by the California Supreme Court that California government GIS databases are public records—makes the data more accessible all the time. MapStory is a repository of examples of the uses those data can be put toward, from class assignments to deep history projects.