Nurse Defies Ebola Quarantine With Bicycle Jaunt
Esme E. Deprez and Michelle Kaske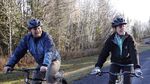 Governor Paul LePage said negotiations between nurse Kaci Hickox and Maine officials broke down over the conditions of her Ebola quarantine.
"The Governor will exercise the full extent of his authority allowable by law" to address public health threats posed by traveling health workers, according to a news release today from his office. The statement gave no details, citing confidentiality requirements.
Hickox was followed by police cars and news trucks this morning as she defied the isolation orders and took a bike ride for less than an hour with her boyfriend. She has shown no symptoms since a brief fever when she arrived on Oct. 24 at Newark Liberty International Airport after working with Ebola patients in Africa.
LePage's chief legal counsel and the Attorney General had sought to reach agreement on how health workers who've had direct contact with the deadly virus should conduct themselves if symptoms develop, according to the statement. The guidelines would have allowed for Hickox to go on jogs or bike rides but not be in public places or within three feet of other people.
"It is not my intention to put anyone at risk in this community," Hickox, 33, told reporters last night outside her house in Fort Kent, a town of about 4,000 on the Canadian border. She said she had tried to resolve the situation "amicably" and described herself as ''completely healthy and symptom-free.''
Contagion Fears
Government officials have been struggling to calm fears of contagion while not penalizing people who venture to countries at the center of the still-raging epidemic. In West Africa, the virus has infected about 10,000 people and killed about half, according to the World Health Organization. In the U.S., one man who traveled from Liberia died.
LePage, a 66-year-old Republican, has said he would seek legal authority to compel Hickox to remain at home and Mary Mayhew, Maine's Health and Human Services commissioner said last night the state was seeking a court order.
Hickox came to Maine from New Jersey, where officials had kept her in a tent at a hospital after her return from treating patients in Sierra Leone. She and Governor Chris Christie engaged in a spirited debate through the news media, with the aid worker contending she was held unjustly and the politician saying his job was to protect New Jerseyans.
Hickox's 21-day quarantine would have ended Nov. 10. She had received no legal orders from state authorities as of last night, her lawyer, Norman Siegel of New York-based Siegel Teitelbaum & Evans LLP, said by e-mail.