Japan Is Pressed to Step Up Foreign Bribery Prosecutions
The OECD presses Abe to increase detection and prosecution
By and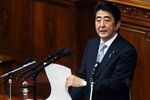 It was a rare event in a Japanese court: On Oct. 1, a former president and two other executives of a Tokyo company that had won a bid for a Hanoi transportation project admitted to bribing officials at Vietnam's state-owned railway. The trio from Japan Transportation Consultants pleaded guilty to charges of offering 70 million yen ($650,000) in bribes. JTC declined to comment.
Such admissions of guilt seldom happen in Japan, where law enforcement has been lax on foreign bribery. The country isn't viewed as having a problem with white-collar crime at home. When it comes to enforcement of laws against bribery overseas, however, Japan has a long way to go, according to a Transparency International report, Exporting Corruption, released on Oct. 23. The survey of 41 countries that have signed the Organisation for Economic Co-operation and Development's antibribery convention ranked Japan in the bottom category, with "little or no enforcement" of laws against corruption overseas. Japanese executives working in other countries are solicited for bribes by officials on almost a daily basis, according to Aki Wakabayashi, head of Transparency International's Japan branch. And sometimes they give in.
Japan's antibribery law, enacted in 1999, prohibits payments to foreign officials, but before the JTC case Japan had pursued only three prosecutions in 15 years, according to the OECD. In the U.S. from 1999 to 2013, the Department of Justice took action against 194 companies and corporate executives for alleged violations of the Foreign Corrupt Practices Act.
The OECD has been pressing Prime Minister Shinzo Abe's government to take corporate corruption seriously. In April he implemented a plan to increase and improve enforcement and prosecution of foreign bribery cases. Steps outlining specific responsibilities for law enforcement officers and prosecutors were encouraging, said the OECD, but the plan "lacked important details," such as clear guidelines for outlawing so-called facilitation payments to local officials by Japanese companies. The group expects to see a "more fully developed" plan by December and "a substantial increase in successful prosecutions and convictions in the near future."

One reason for Japan's laid-back approach might be that U.S. authorities who prosecute Japanese corporations are already so effective. Under the Foreign Corrupt Practices Act, passed in 1977, U.S. prosecutors can pursue Japanese companies with U.S. operations for bribing officials in another country. In March, Japanese trading company Marubeni agreed to pay a fine of $88 million after U.S. prosecutors charged it with bribing officials in Indonesia.
As part of the settlement, Marubeni pleaded guilty. (It was the company's second settlement with the U.S., following a fine of almost $55 million in 2012 for alleged bribery in Nigeria.) In 2011, Japanese tire maker Bridgestone paid a $28 million fine for antitrust and FCPA violations. "Honestly, the Japanese government is not so successful in prosecuting that kind of bribery case offshore by Japanese companies," says Tsutomu Miyano, a partner at Tokyo law firm Anderson Mori & Tomotsune. He says Japanese companies do fear U.S. prosecutors and the FCPA.
"The proposition that U.S. enforcement authorities were bringing foreign bribery cases against major Japanese corporations, like Bridgestone, like Marubeni—with no parallel actions by the Tokyo public prosecutor's office—definitely led to criticism at the OECD that Japan wasn't doing enough," says Charles Duross, a partner at Morrison & Foerster in Washington and head of the Justice Department's FCPA unit from 2010 until 2014.
Continued pressure from the OECD has had some effect, says Shohei Takenouchi, an officer of the OECD division of Japan's foreign ministry. Yes, the U.S. has many more cases, he says, but Japan is enacting measures against corruption. "The OECD has said it wants us to clarify 'facilitation payments' and improve the law on prevention of organized crime," Takenouchi says. "We are planning to do so."
Two of the four corruption cases prosecuted in Japan have been brought in the past year alone, Duross says, clearly in reaction to the OECD position. "Countries really don't like being criticized for a lack of enforcement against their own companies," he says.
Japan has extended the statute of limitations for overseas bribery cases to five years from three. Takashi Shibuya, an ex-prosecutor who's now a partner at Tokyo law firm Nishimura & Asahi, says Abe's government is also seriously considering a measure to allow plea bargaining, so parties will testify against partners in crime. "That can be a kind of breakthrough" in the corruption fight, he says. The Vietnam case may be the first sign of that.
As the OECD turns up the heat, many Japanese companies aren't waiting for their own government to act, says Transparency International's Wakabayashi. She's seen a big increase in corporate requests for help on antibribery programs. "They don't want to be fined or arrested," she says.
— With assistance by Tom Schoenberg
BOTTOM LINE -
The bottom line: Since Japan passed an antibribery law in 1999, prosecutors have pursued only four cases.
Before it's here, it's on the Bloomberg Terminal.
LEARN MORE