H. Gary Morse, Billionaire Behind Florida's Villages, Dies at 77
Laurence Arnold and Brendan Coffey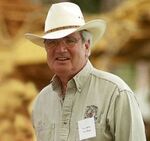 H. Gary Morse, the billionaire builder of one of the world's largest retirement communities, the Villages in central Florida, has died. He was 77.
He died last night, according to a report in the Villages Daily Sun. No cause was given.
Morse's development, on a 33-square-mile parcel (85-square-kilometer) south of Ocala, Florida, is the fastest-growing metropolitan area in the U.S., according to Census Bureau statistics released earlier this year. Its population is about 110,000.
More than just its developer, Morse was landlord of the project's 4.5 million square feet of commercial space, including dozens of restaurants and retailers. He owned the local newspaper, a television channel and an AM radio station, and his bank and insurance company served the retirees in the community, Bloomberg News reported in 2012.
The article identified Morse as a billionaire, calculating that he and his family had a net worth of $2.5 billion. The Bloomberg Billionaires Index now computes that figure to be $2.9 billion.
"Dad never sought the limelight," his children said in a statement quoted by the Villages newspaper. "He was content to stay in the background and enjoy seeing Villagers revel in this amazing lifestyle of their adopted hometown."
Villages Wizard
Andrew D. Blechman, author of "Leisureville" (2008), a book on retirement communities, compared Morse to the Wizard of Oz: "He's the man behind the curtain. No one really knows him at the Villages."
Morse was also a major donor to Republican candidates and campaigns. He was a co-chairman of the Florida finance committee for Republican Mitt Romney's presidential campaign in 2012.
Harold Gary Schwartz was born in Chicago on Dec. 19, 1936, to Mary Louise and Harold Schwartz. After his parents divorced and his mother remarried, he took the last name of his stepfather, Clifford Morse.
Morse was raised in Central Lake, Michigan, where the family ran a restaurant and entertainment complex called Brownwood, according to a Jan. 8, 2012, account in the Villages Daily Sun.
His father bought a few thousand acres of scrub land 15 miles (24 kilometers) south of Ocala and, in 1959, began selling lots by mail. By 1983, when Morse took over the business, 400 lots had trailers on them. Rather than sell vacant lots, Morse decided to build homes, pools, restaurants and golf courses.
Rising Sales
By 1986, Morse was selling more than 500 homes a year. From 1986 through the first quarter of 2014, the Holding Company of the Villages had $9.9 billion in total new home sales revenue.
In 2006, Morse transferred most of the direct ownership in the company to his three children: Mark Morse became president, Tracy Mathews oversaw Villages design, and Jennifer L. Parr was named a director.
According to the Villages newspaper, Morse's first wife, Sharon, died in 1999. In addition to his three children, survivors include his second wife, Renee; a stepson, Justin Wilson; 16 grandchildren and six great-grandchildren.
Before it's here, it's on the Bloomberg Terminal.
LEARN MORE