Strong Ratings for Game 7 Save a Subpar World Series
By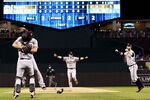 An all-time great performance by San Francisco Giants pitcher Madison Bumgarner in a very slim victory over the Kansas City Royals in Game 7 of Major League Baseball's World Series drew an audience of 23.5 million on Fox. That was a series best by more than 40 percent, according to Nielsen data provided by Horizon Media, and it was the most for a World Series game since Game 7 between the St. Louis Cardinals and Texas Rangers in 2011, which drew 25.4 million viewers.
This year's series began with a worst-on-record opening audience of 12.2 million. And Game 5 viewership lost badly to a regular season NFL game on NBC, leading to further grim ruminations on the state of the sport. Before the game, outgoing Commissioner Bud Selig bristled at the negative attention paid to ratings. "People want to use national TV ratings as a barometer—as a thoughtful, sensitive barometer of the sport—and they're missing the entire point," he told the New York Times.
The strong Game 7 number should quiet the decline of baseball talk for at least a night. It was a surprisingly strong finish, with a rise from Game 6 to Game 7 well above of that of 2011:

The big final day gave the series an average audience of 13.8 million and saved it from being the least-watched ever. That honor still belongs to the 2012 World Series, at 12.7 million.
Before it's here, it's on the Bloomberg Terminal.
LEARN MORE